PRESSO
Storage jar, 2.0 l, 68 oz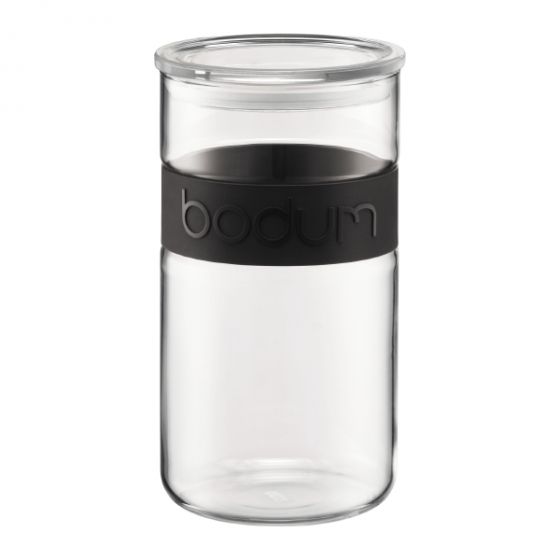 PRESSO
Storage jar, 2.0 l, 68 oz
Free Delivery over AU$60.00

14 Days Return Policy
About the PRESSO Food Storage Containers
Embrace the art of kitchen organization with the PRESSO food storage containers. These storage jars help you conquer kitchen clutter and store your food in style since 1982, when they were introduced in the market.
The perfect blend of utility and design, our PRESSO storage collection offers stylish storage solutions for your kitchen. Made from silicone and borosilicate glass, these food storers ensure contents stay fresher for longer, while remaining visible at a glance.
Versatile and flexible, these storage jars come in a variety of sizes designed to fit different pantry staples, making them the ideal containers for cereal, pasta, flour, sugar, nuts, beans, coffee, tea and other foodstuff, and perfect for storing various liquids. Fitted with a silicone band for comfortable grip, they complement other items in the BODUM®'s range.
Main Features & Benefits
Food storer containers of varying sizes.
Made from silicone, borosilicate glass, and fully recyclable materials.
Can handle high temperatures (except the lid) and high acidity products without risk of discoloration.
Safely store a variety of foodstuffs, from cereals and pasta to fresh fruit and liquids.
Lightweight and crystal-clear.
Lid to help keep food fresh.
Dishwasher safe.
The jar itself, except the lid, is microwave safe
Use & Care
Wash in warm, soapy water before first use. All items are dishwasher safe.
Item Number

11130-01

Coming Soon

No

Shatter Proof

No

Color

001

Capacity

2.0 L

Width (cm)

12.3

Height (cm)

22.5

Depth (cm)

12.3

EAN

699965013219

Design Line

PRESSO

Material

Borosilicate glass, Silicone, Polystyrene Plastic (PS)