TITLIS
Set van 2 dubbelwandige stapelbare glazen, klein, 0.25 l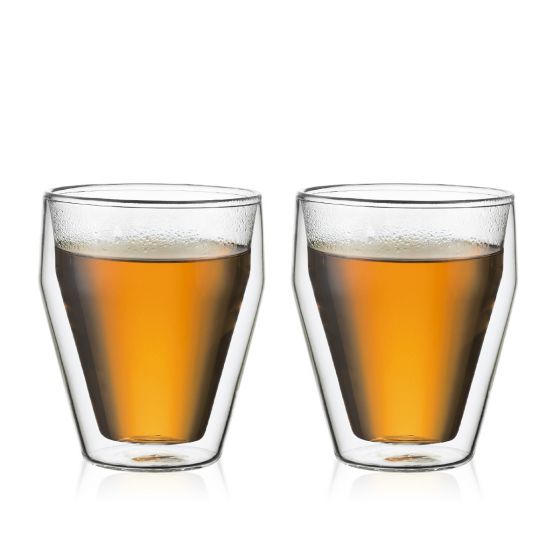 TITLIS
Set van 2 dubbelwandige stapelbare glazen, klein, 0.25 l
Shipping Cost (Standard) € 3,90

Gratis levering over € 25,00

30 dagen retourbeleid
Over de TITLIS dubbelwandige glazenset
Speciale gelegenheden verdienen speciaal drankgerei – en het TITLIS dubbelwandig drinkglas zal je gasten zeker imponeren. Deze stijlvolle tumblers vallen op door hun unieke vorm en innovatieve dubbelwandige constructie, waardoor een optische illusie ontstaat die de inhoud doet lijken alsof deze gracieus in het glas zweeft.
Individueel mondgeblazen uit warmtebestendig borosilicaatglas, biedt het TITLIS dubbelwandig drinkglas een thermische isolatie die warme en koude dranken langer op hun optimale temperatuur houdt, terwijl het de buitentemperatuur van het glas reguleert.
Het mooiste van alles is dat deze gevormde glazen de presentatie van je drankjes verbeteren, zodat ze er net zo goed uitzien als ze smaken. Van koffie, chocolademelk en thee tot cold brew, cocktails en gekoelde desserts, deze dubbelwandige drinkglazen brengen een element van luxe in je huis.
Belangrijkste kenmerken en voordelen
Set van dubbelwandige drinkglazen.
Innovatief dubbelwandig ontwerp dat warme dranken warm en koude dranken koud houdt.
Ook perfect voor het serveren van soep of koude desserts.
Gemaakt van mondgeblazen, hittebestendig borosilicaatglas.
Hydrofobische siliconen luchtopening die de luchtdruk tussen de twee glaslagen gelijk maakt.
De unieke vorm betekent dat glazen kunnen worden gestapeld om ze gemakkelijk op te bergen.
Vaatwasser-, magnetron- en ovenbestending (tot 176 °C).
Beschikbaar in verschillende maten.
Gebruik & onderhoud
Voor het eerste gebruik afwassen in warm water met zeep en goed afdrogen. Bij elk volgend gebruik afwassen en drogen met de hand of in de vaatwasser plaatsen. TITLIS dubbelwandige glazen zijn veilig te gebruiken in de vriezer, de oven en de magnetron.
Item Nummer

10481-10

Komt spoedig

Nee

Shatter Proof

Nee

Kleur

Transparant

Inhoud

0.250 L

Breedte (cm)

3.375

Hoogte (cm)

3.875

Diepte (cm)

3.375

EAN

727015767772

Design Line

TITLIS

Material

Borocilicate glas, silicone