POUR OVER
Cafetière met permanent filter, rvs, 8 kops, 1.0 l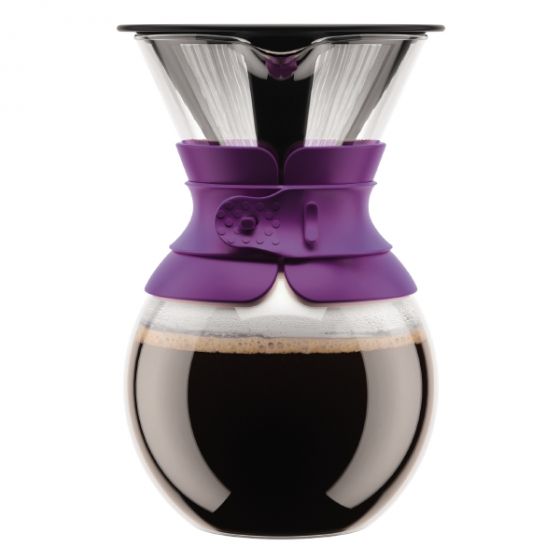 POUR OVER
Cafetière met permanent filter, rvs, 8 kops, 1.0 l
Shipping Cost (Standard) € 5,50

Gratis levering over € 25,00

30 dagen retourbeleid
Over de filterschenkkoffiezetter
BODUM's filterschenkkoffiezetter is de sleutel tot het maken van rijkere, krachtigere koffie vanuit het comfort van jouw huis. De door design geleide esthetiek is een stijlvolle toevoeging aan elke keuken, maar het is de resulterende volle, zachte koffie met een robuust aroma die je hart zal veroveren.
De prachtig vormgegeven karaf is gemaakt van borosilicaatglas van de hoogste kwaliteit dat geen aroma of smaak absorbeert en is voorzien van een permanent roestvrijstalen filter voor echt duurzaam brouwen. Geen verkwistende papieren filters die essentiële oliën en aroma's opsluiten; alleen pure smaakvolle koffie.
Filterschenkzetten moedigt een bewuster begin van de dag aan. Dit innovatieve, probleemloze filterschenkkoffiezetapparaat is eenvoudig te gebruiken en geeft je de ultieme controle over jouw kopje koffie. Het enige wat je nodig hebt is filterkoffie, heet water, vier minuten van je dag en een beetje Bodum-magie, en je hebt alle ingrediënten voor een heerlijk kopje koffie. Dit is overgieten, geperfectioneerd.
Belangrijkste functies en voordelen
Innovatieve opschenkkoffiezetter waarmee je thuis koffie van barista-kwaliteit kunt zetten.
Gemaakt van niet-poreus borosilicaatglas dat geen smaak of aroma absorbeert.
Permanent roestvrijstalen filter dat een rijke smaak en robuust aroma produceert.
Milieuvriendelijke zetmethode, geen papieren filters of plastic capsules.
Eenvoudig te gebruiken en te reinigen.
Vaatwasmachinebestendig.
Gemaakt in Europa.
Hoe het werkt
Hoe je heerlijke koffie zet met de filteropschenkkoffiezetter:
Plaats jouw koffiezetter op een vlak, hittebestendig, en slipvast oppervlak.
Voeg vers gemalen filterkoffie toe aan de kegel. We bevelen een ronde theelepel of een Bodum-schep per beker water aan.
Giet langzaam heet (niet kokend) water in een cirkelvormige beweging over de koffie, totdat deze gelijkmatig verzadigd is. Giet vervolgens extra heet water tot de maximale capaciteit.
Laat het water door de koffie in de borosilicaatglaskaraf lopen (dit duurt ongeveer vier minuten).
Verwijder het filter, zet het plastic deksel erop, en geniet van een geweldige kop koffie.
Gebruik en onderhoud
Voor het eerste gebruik wassen in warm water met zeep en goed drogen. De glazen karaf en het roestvrijstalen filter zijn vaatwasmachinebestendig.
Item Nummer

11571-150B-Y16

Kleur

Purple 2603C

Inhoud

1.0 L

Breedte (cm)

16.3

Hoogte (cm)

20.2

Diepte (cm)

14.0

EAN

699965341602

Design Line

POUR OVER

Material

Kunststof, borocilicate glas, titanium