Bodum
BISTRO
2-delige Jumbo Dubbelwandige Mok, 0.30L, 10oz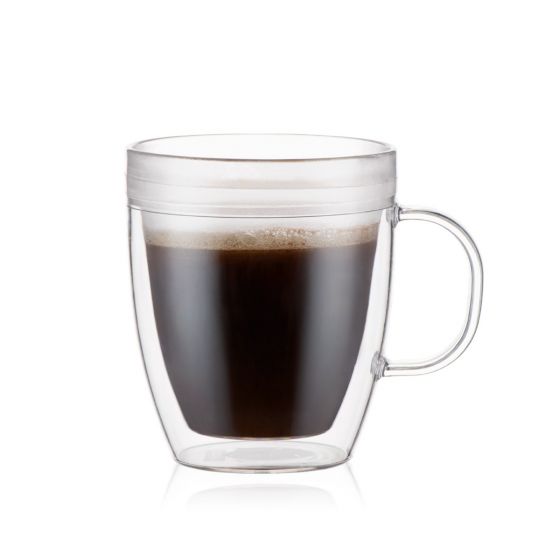 Bodum
BISTRO
2-delige Jumbo Dubbelwandige Mok, 0.30L, 10oz
Shipping Cost (Standard) € 3,90

Gratis levering over € 25,00

30 dagen retourbeleid
Over de BISTRO jumbo dubbelwandige mok
Verbeter je koffietijd met de BISTRO jumbo dubbelwandige mok. Deze transparante mokken zijn zo ontworpen dat je de visuele schoonheid van je favoriete koffiemelange kunt waarderen, maar ook kunt genieten van de heerlijke smaak – hetzelfde geldt als je een kopje thee drinkt of wanneer je geniet van een warme chocolademelk!
Kristalhelder voor het oog en licht in gewicht, deze duurzame mokken zijn gemaakt van breukbestendig, BPA-vrij plastic, wat betekent dat ze perfect zijn voor picknicks in het park, achtertuinbijeenkomsten, of om je te vergezellen op je reizen.
Deze innovatieve dubbelwandige mokken bieden fantastische isolerende eigenschappen. Ze houden warme dranken warm zonder je handen te verbranden en koude dranken koud zonder enige rommelige condensatie – dus ze zijn ook geweldig voor het serveren van een heerlijke cold brew op een warme zomerdag.
Het eenvoudige, minimalistische ontwerp in combinatie met het unieke zwevende effect dat wordt veroorzaakt door de dubbele wandconstructie, maakt deze jumbomok tot een stijlvolle aanvulling op je drankgereiverzameling.
Belangrijkste kenmerken en voordelen
Grote dubbelwandige mok met handvat.
Houdt een kopje (0,3 l) van je favoriete drankje.
Dubbelwandige constructie houdt warme dranken warm en koude dranken koud.
Gemaakt van duurzaam plastic dat niet zal barsten, breken of verkleuren.
BPA-vrij.
Vaatwasmachinebestendig, gemakkelijk schoon te maken.
Magnetronbestendig.
Gebruik & onderhoud
Was voor het eerste gebruik en na elk volgend gebruik. De dubbelwandige mok is veilig voor gebruik in de vaatwasser en de magnetron.
Item Nummer

11872-10TR

Komt spoedig

Nee

Shatter Proof

Ja

Kleur

Transparant

Inhoud

0.3 L

Breedte (cm)

12.0

Hoogte (cm)

11.0

Diepte (cm)

9.3

EAN

699965431426

Design Line

BISTRO

Material

Tritan