BISTRO
Dubbelwandige Water Fles 0.45l / 17 oz, TRITAN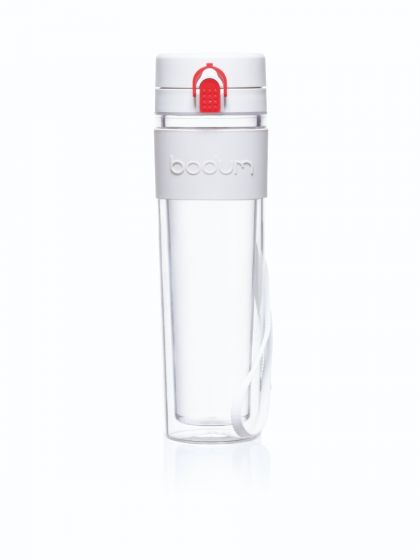 BISTRO
Dubbelwandige Water Fles 0.45l / 17 oz, TRITAN
Shipping Cost (Standard) € 5,50

Gratis levering over € 25,00

30 dagen retourbeleid
We introduceren onze nieuwe dubbelwandige hydratatieflessen. Gemaakt van duurzaam tritanplastic. Het is een ideale manier om je de hele dag te hydrateren!
Of het nu sportief, zittend of avontuurlijk is, het is geweldig voor alle dagelijkse activiteiten.
Als je het gebruik van plastic in uw normale dagelijkse routine wilt verminderen, hoef je alleen maar de wegwerpwaterflessen op te geven en de nieuwe en herbruikbare, milieuvriendelijke Bodum-waterfles te omarmen.

Producteigenschappen en -voordelen:
- Dubbelwandsysteem - het beste te gebruiken in de hete zomer - voeg gewoon wat ijs toe aan je water. Het dubbelewandsysteem houdt je drank langer koud zonder dat de buitenwand te koud wordt;
- Siliconenband - gemakkelijk vast te pakken en biedt een stevige houvast;
- Gemakkelijk te dragen - de riem past zich gemakkelijk aan je hand aan en het slanke lichaam kan met één hand stevig worden vastgehouden;
- Schroef het deksel op en klap de bovenkant open met een brede drankopening - zorgt voor een grote stroom van uw drank;
- Met de drukknop kan het deksel worden geopend en de vergrendelclip zorgt ervoor dat deze op elk moment in de gesloten stand kan worden gehouden;
- Vergrendelclip voorkomt ook het openen van het deksel door per ongeluk op de knop te drukken;
- Bedekt deksel - voor een hygiënischere drinkervaring;
- Gemaakt van BPA-vrij plastic - transparant om het vloeistofniveau duidelijk te kunnen zien.

Item Nummer

11895-913BTR

Komt spoedig

Nee

Shatter Proof

Nee

Kleur

Gebroken wit

Inhoud

0.5 L

Breedte (cm)

8.9

Hoogte (cm)

25.3

Diepte (cm)

7.1

EAN

699965419745