Bodum
TRIBUTE SET
Roestvrijstalen Franse pers-koffiezetapparaat 8 kopjes/1.0 L, dubbelwandige reismok en elektrische koffiemolen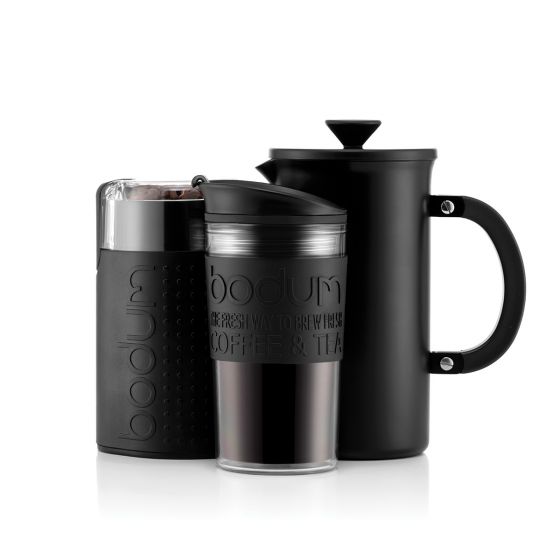 Bodum
TRIBUTE SET
Roestvrijstalen Franse pers-koffiezetapparaat 8 kopjes/1.0 L, dubbelwandige reismok en elektrische koffiemolen
Shipping Cost (Standard) € 3,90

Gratis levering over € 25,00

30 dagen retourbeleid
Over de BODUM-koffieset
Deze stijlvolle koffieset van BODUM, die ideaal is voor koffieliefhebbers, houdt in dat je elke dag van perfect gebrouwen koffie kunt genieten, of je nu thuis aan het ontspannen bent of onderweg bent met een druk schema. Koffiekenners zijn het ermee eens dat er niets boven versgemalen koffie gaat.
Dus, de eerste stap om heerlijke koffie te zetten is de elektrische koffiemolen van BISTRO. Vermaal je bonen met slechts een druk op de knop van grof tot fijn. Je hebt de ultieme controle om je bonen precies zo te vermalen als jij wilt, met de keuze tussen pulserende bewegingen of continue vermaling, en hij bevat een transparant deksel ter kwaliteitscontrole.
Franse pers-koffiezetapparaten staan bekend om hun volle, aromatische koffie. Voeg simpelweg versgemalen bonen en heet water toe, wacht vier minuten en druk op de hendel. Niet alleen zal je revitaliserende bakje heerlijk smaken, maar hij is ook goed voor het milieu - tenslotte is het motto van BODUM, "make taste, not waste". Dit genereuze koffiezetapparaat heeft een maximale inhoud van 1 liter, dus is hij perfect om te delen met vrienden en familie.
De reismok, perfect voor de hedendaagse drukke levensstijl, houdt in dat jij je perfect gebrouwen bakkie troost overal waar je komt met je mee kunt nemen. Het dubbelwandige ontwerp zorgt ervoor dat de koffie urenlang warm blijft, terwijl de siliconen band veilig en comfortabel vast te pakken is. Zorg er alleen wel voor dat je hem omwille van veiligheidsredenen overeind houdt.
De set bevat:
Koffiemolen (roestvrij staal, plastic en rubber)
Koffiezetapparaat, 1 L (roestvrij staal, plastic en siliconen)
Reismok, 0,35 L (plastic, rubber en siliconen)
Item Nummer

K11352-01EURO

Komt spoedig

Nee

Shatter Proof

Nee

Kleur

Zwart

Breedte (cm)

15.5

Hoogte (cm)

21.0

Diepte (cm)

10.0

EAN

699965450557

Design Line

TRIBUTE PRESS

Material

Roestvrij staal, plastic, silicoon