Bodum
ePEBO SET
ePEBO Elektrische vacuüm koffiezetter + BISTRO Elektrische koffiemolen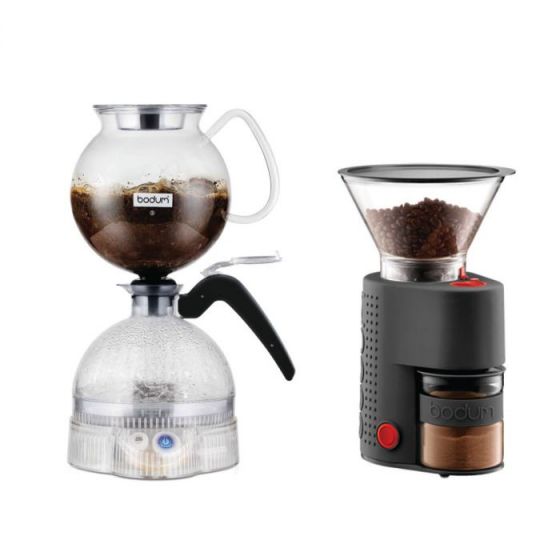 Bodum
ePEBO SET
ePEBO Elektrische vacuüm koffiezetter + BISTRO Elektrische koffiemolen
Verzendkosten (standaard) € 4,90

Gratis levering over € 35,00

30 dagen retourbeleid
Buy an ePEBO and get a Burr Coffee Grinder, for FREE! This coffee bundle is the best option for those who appreciate the slow coffee culture.
On the one hand, the electric coffee grinder crushes beans between stainless steel conical burrs, a technique which preserves bean's intrinsic flavour and aroma and provides a consistent grind. 
On the other, the electric vacuum coffee maker, the ePEBO, is the supreme way of getting a cup of steaming hot coffee. The vacuum brewing method allows all the precious oils from the coffee to be extracted with the ideal balance between temperature and brewing time. The vacuum created during the brewing seals the flavours, so you get full use of the good coffee beans. 
So, what are you waiting for? Don't miss the chance to buy this bundle! 

Item Nummer

K11744-01EURO

Binnenkort

Nee

Barstbestendig

Nee

Merk

Bodum

Kleur

Zwart

Breedte (cm)

0.0

Hoogte (cm)

0.0

Diepte (cm)

0.0

EAN

699965383992

Meest verkochte producten

Nee