MELIOR®
Bar Set 5 pièces - Tire-bouchon + Coupe-capsule + Bouchon de bouteille + Bouchon verseur + Décapsuleur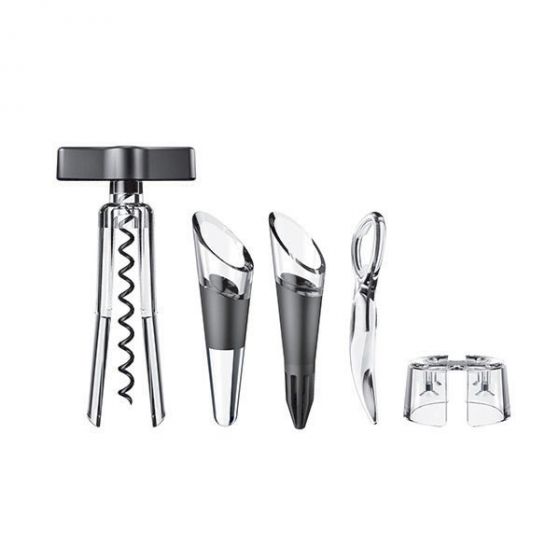 MELIOR®
Bar Set 5 pièces - Tire-bouchon + Coupe-capsule + Bouchon de bouteille + Bouchon verseur + Décapsuleur
Frais de livraison (standard) 3,90 CHF

Livraison gratuite au-delà de 40,00 CHF

Politique de retour de 14 jours.
About the MELIOR Bar Set
Whether you're preparing to throw a dinner party or simply kitting out your home bar, the stylish MELIOR Bar Set is a collection of beautiful and practical accessories designed to keep the drinks flowing with ease. This five-piece set includes a full range of wine accessories, along with a pop-top bottle opener.
Open wine bottles effortlessly thanks to the delightful duo of foil cutter and corkscrew. The small but brilliant foil cutter has four sharp blades that deliver a perfect cut to prepare the neck of your wine bottle for opening, while the sleek corkscrew has a smooth de-corking mechanism that makes opening bottles a breeze.
Next, reach for the multi-talented wine pourer and aerator. This useful gadget gently airs the wine as you pour, teasing out its full flavor and aroma instantly without the need for a decanter. Non-wine drinkers will be equally delighted with the ergonomic bottle opener that opens pop-top bottles with a simple flick of a wrist. So you can serve everybody their tipple of choice.
At the end of the evening, the bottle stopper fits in the neck of any leftover wine preserving its freshness for another day, and all accessories are dishwasher safe making the clean up simple. Cheers to that!
Main Features & Benefits
Bar set includes a MELIOR Corkscrew, Foil Cutter, Wine Pourer and Aerator, Bottle Stopper, and a Bottle Opener
Sleek corkscrew with an effortless de-corking mechanism, suitable for all bottle sizes and both natural and synthetically corked wines
Stylish foil cutter with four sharp blades that quickly and safely removes foil and plastic seals from wine bottles
Multi-functional wine pourer and aerator that oxygenates wine as you pour, enhancing its taste, aroma and finish
Elegant bottle stopper extends the life of opened bottles of wine
Classic bottle opener crafted from reinforced plastic with a stainless steel touchpoint that opens pop-top bottles with ease
Easy to use and easy to clean
Made in Portugal
Use & Care
All items are dishwasher safe.
Numéro d'Article

K11724-01

Prochainement

Non

Résistant aux chocs

Non

Couleur

Noir

Capacité

0.0 L

Largeur (cm)

0.0

La Taille (cm)

0.0

Profondeur (cm)

0.0

EAN

699965355722

Matière

Acier inoxydable, plastique