Bodum
BISTRO
Tostapane elettrico, 1600 W, acciaio inossidabile satinato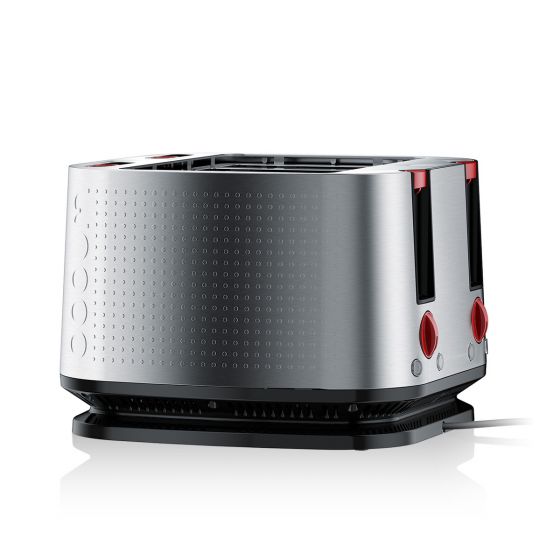 Bodum
BISTRO
Tostapane elettrico, 1600 W, acciaio inossidabile satinato
Costo di spedizione (Standard) 4,99 CHF

Consegna gratuita per ordini superiori a 45,00 CHF

Restituzione entro 14 giorni.
About the BISTRO 4-Slice Toaster
Toast your bread to perfection with the BISTRO 4-slice toaster. With five variable browning settings – taking your bread from light and golden to dark and bronzed, and everything in between – your toast will be done exactly the way you like it, every time.
This bread toaster is packed with useful features, including a defrost button for toasting frozen bread and a cancel button for complete control. Adjustable grates ensure a snug fit whatever thickness of bread you're using, and the four bread slots are grouped in two with individual controls for each pair, so you only use what you need.
Finished with a polished stainless steel exterior that's cool to the touch and easy to wipe clean, the BISTRO 4-slice toaster is the perfect combination of functionality and design – and a stylish addition to any family kitchen.
Main Features & Benefits
4-slice bread toaster with defrost and cancel buttons
Five variable browning and temperature settings for complete control over your toast
Separate controls for each pair of bread slots so you only use what you need
Pop-up warming rack for rolls, croissants, bread, and more
Adjustable grates for a secure fit around your food
Removable crumb tray for easy cleaning
Cool-touch, stainless steel exterior that's easy to wipe clean
Footed base with cord retainer for safe and neat storage
Use & Care
Before using for the first time, operate the toaster without any bread inside for five minutes to eliminate the 'new' smell. Always unplug the toaster before cleaning. To clean the inside, tip the toaster upside down over the sink and shake gently. After toasting, wait for the toaster to cool down, then slide out the crumb tray and empty it. The exterior can be wiped over with a damp cloth and dried.
How It Works
Place the 4-slice toaster on a flat, heatproof surface and plug it in.
Insert up to four slices of bread into the toasting slots, choose the required setting, and push down the control lever until it locks.
If you're using frozen bread, push the defrost button immediately.
The toaster will stop automatically, and you can cancel at any time by pressing the stop button.
Codice Articolo

11840-57EURO-4

Presto disponibile

No

Infrangibile

No

Colore

Matt Chrome

Capacità

0.0 L

Larghezza (cm)

26.8

Altezza (cm)

19.8

Profondità (cm)

26.8

EAN

699965391140

Linea modello

BISTRO