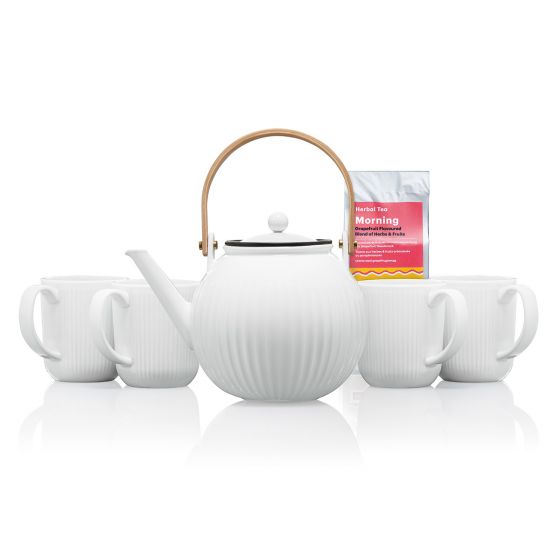 Free Delivery over €50.00

30 Days Return Policy
DOURO from BODUM

A special Portuguese landscape simplified in porcelain.
The Douro Valley in Portugal is one of Europe's oldest and most beautiful wine regions. With the curved terraces of vines as far as the eye reaches, it has been the inspiration for the fine grooves in BODUM's new DOURO Tea Press. An elegant classic design that is available either in black or white. In its simplicity make a soft contrast to glass and steel, or emphasize warm materials like cork and wood. DOURO is both designed and manufactured in Portugal. The country from which the story began.

- Douro Tea press, 1.5 l
- Coffee mug, 0.35 l

The Tea Press utilizes the same brewing system as the French Press to allow for full control of the tea steeping process. The plunger locks tea leaves into the bottom of the filter once brewing is complete, cutting off access of water to the tea leaves. Allows tea to be recycled for multiple uses.

- Morning star, 75 g, herbal tea

This unforgettable, premium-quality blend of herbs and fruits makes a marvellous alternative to traditional breakfast teas. The refreshing combination of apple, hibiscus flowers, lemongrass and peppermint, alongside the zesty flavour of grapefruit, is bound to help you rediscover your get-up-and-go! That's why this luxury tea is not only dazzlingly distinctive but also brilliantly uplifting. Its aroma is wonderful – and the taste is even better! For the best, brightest flavour, brew for between eight and ten minutes.

Item Number

K11920-03

Coming Soon

No

Shatter Proof

No

Color

White

Width (cm)

0.0

Height (cm)

0.0

Depth (cm)

0.0

EAN

699965430092

Design Line

DOURO