BISTRO
Slotted serving spoon, large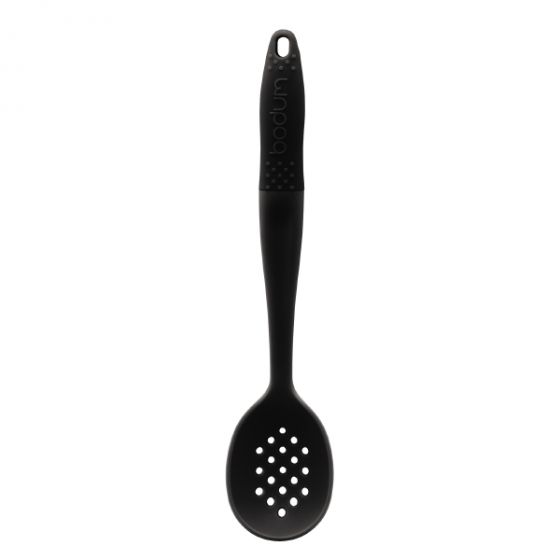 BISTRO
Slotted serving spoon, large
Shipping Cost (Standard) £2.90

Free Delivery over £35.00

14 Days Return Policy
About the BISTRO Slotted Serving Spoon
The BISTRO slotted serving spoon is one of the most versatile and useful kitchen tools. Small holes in the spoon allow water, fat and oil to run off food before serving. So it's perfect for removing par-boiled vegetables or eggs from boiling water and straining meat from stock – and equally at home dishing up at the dining table.
Part of our BISTRO Gadget Line, the slotted serving spoon is designed to withstand the demands of everyday cooking. This durable utensil has a heat-resistant nylon head that's also resistant to odors and discoloration, and won't damage your precious pots and pans. It's equally kind on hands too, with a silicone handle offering a comfortable, non-slip grip as you whizz around the kitchen.
Fun and practical, the BISTRO Slotted Serving Spoon is available in a range of colors to suit any kitchen style. And when its task is complete, simply pop it in the dishwasher for fuss-free cleaning.
Main Features & Benefits
Slotted serving spoon ideal for straining vegetables and meat while removing them from pans and fryers
Durable design that's built to last
Nylon head that's heat resistant and gentle on your non-stick pots and pans
Silicone handle that's comfy to hold and offers a non-slip grip
Hanging hole for convenient storage
Easy to clean
Dishwasher safe
Available in a choice of colors
Coordinating items available
Use & Care
Dishwasher safe.
Item Number

11384-01

Coming Soon

No

Shatter Proof

No

Color

Black

Capacity

0.0 L

Width (cm)

36.5

Height (cm)

2.7

Depth (cm)

7.5

EAN

699965140625

Design Line

BISTRO

Material

Nylon, silicone