Bodum
BODUM COLUMBIA
Tea press, 1.5 l, 51 oz, s/s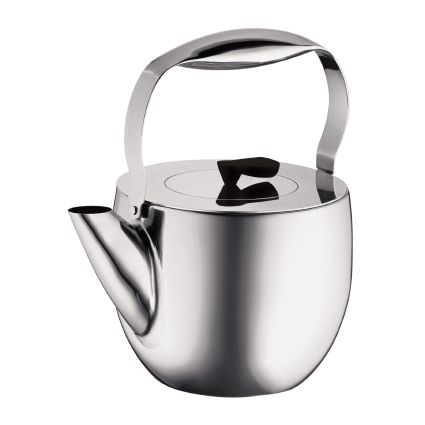 Bodum
BODUM COLUMBIA
Tea press, 1.5 l, 51 oz, s/s
Shipping Cost (Standard) £2.90

Free Delivery over £35.00

14 Days Return Policy
About the BODUM COLUMBIA Tea Press
The BODUM COLUMBIA Tea Press blends retro style with a very modern tea experience. Based on our innovative French press brewing system, this elegant teapot brews tea precisely to your desired strength, while extracting an exceptionally pure and refreshing taste.
Crafted from premium quality stainless steel with a polished finish, this teapot with infuser is as beautiful as it is practical. But the real magic happens inside. Simply add your preferred tealeaves – white, green, black or herbal – into the stainless steel basket, pour over hot water, and allow your tea to brew while a delicious aroma calls to your taste buds.
When the tea has brewed to your satisfaction, depress the plunger and the brewing process stops, enabling you to discard or re-use your tealeaves. With its timeless elegance and generous size, the BODUM COLUMBIA Tea Press is ideal for when you're expecting company or as a gift for a tea-loving friend.
Main Features & Benefits
Innovative stainless steel tea press that brews tea at your preferred strength without needing to remove the infuser
Patented system that stops tea from brewing once the plunger has been lowered, so tea is not bitter
Crafted from durable stainless steel with a mirror polished finish, capable of withstanding many years of use
Ergonomic, heat-resistant handle for safe holding and pouring
Perfect for use with loose-leaf tea or teabags
Unique brewing process means tealeaves can be used more than once
Easy to use and easy to clean
Dishwasher safe
Matching items available
Use & Care
Place the BODUM COLUMBIA tea press on a flat, heat-proof, non-slip surface
Add your preferred tealeaves into the filter. We recommend 2-3 scoops of black tea or 3 scoops of herbal tea for each liter of water.
Pour in hot water, ensuring the water stays below the MAX fill line.
Place the lid on the pot with the plunge in the raised position, and let your tea brew – 3-5 minutes for bla
ck tea, or 5-10 minutes for herbal and fruit teas.
Once your tea is at its preferred strength, firmly press the plunger down to stop the brewing process. Serve and savor.
Wash in warm, soapy water before first use and dry thoroughly. All parts are dishwasher safe.
*All of our coffee and tea makers are measured in European cup sizes: 1 Cup = about 4oz
Item Number

11496-57

Coming Soon

No

Shatter Proof

No

Color

Matt Chrome

Capacity

1.5 L

Width (cm)

21.0

Height (cm)

23.5

Depth (cm)

15.5

EAN

699965189907

Design Line

BODUM COLUMBIA

Material

Stainless steel, plastic, silicone