FYRKAT®
Picnic charcoal grill, 3 legs long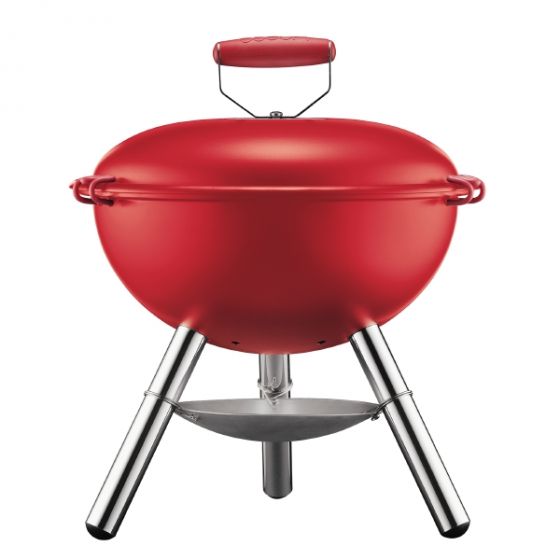 FYRKAT®
Picnic charcoal grill, 3 legs long
Shipping Cost (Standard) £2.90

Free Delivery over £35.00

14 Days Return Policy
About the Fyrkat Portable Charcoal Grill
The sun is out… it must be grill o'clock! You can't beat the mouth-watering smoky taste of a charcoal barbeque. But if you have limited outdoor space or want to take your barbeque on an adventure, you need something lightweight and portable.
The Fyrkat portable charcoal grill is ideal for urban grilling, and easily transportable for spontaneous gatherings at the beach or park. Its compact size means you can throw in the car if you want to grill on the go, but it's large enough to cook four burgers or four small fillets simultaneously.
This cracking outdoor tabletop grill has a host of useful features, including a silicone handle that's cool to the touch, clips for easy transportation, and a removable cooking rack for fuss-free cleaning. Wherever you go, it's sure to add flavor to your outdoor adventures.
Main Features & Benefits
Portable charcoal grill that's large enough to cook four burgers or four small fillets.
Round steel body wrapped in chrome for added strength and stability.
Colorful silicone handle stays cool to the touch and can be used to adjust the airflow to the grill.
Silicone clips lock the lid in place for safe and easy transportation.
Removable cooking rack can be transferred to the kitchen or dishwasher for easy cleaning.
Metal bowl captures the grease and controls the heat, so the grill can be used safely on most outdoor surfaces.
Available in a choice of colors.
Use & Care
Place the Fyrkat portable charcoal grill on a flat, stable base.
Add good-quality charcoal briquettes and light the grill. Wait 25-30 minutes until the charcoal has a thin grey coating before grilling.
Grill your food with an open or closed lid, depending on your preference.
After each use, remove the remains of the briquettes, wash with a mild cleansing agent and wipe dry. The wire rack is dishwasher safe.
Item Number

11529-294

Coming Soon

No

Shatter Proof

No

Color

Red

Capacity

0.0 L

Width (cm)

38.0

Height (cm)

45.5

Depth (cm)

38.0

EAN

699965250188

Design Line

FYRKAT®

Bestsellers

No

Material

Powder coated carbon steel, chrome plated steel, galvanized steel, spring steel, silicone, nylon