BIASCA
infusion jug, 1.2l, 40oz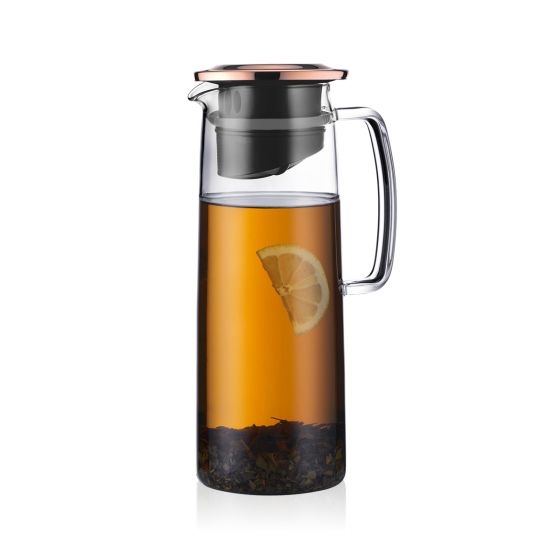 BIASCA
infusion jug, 1.2l, 40oz
Shipping Cost (Standard) £2.90

Free Delivery over £35.00

14 Days Return Policy
About the BIASCA Infusion Jug
A refreshing jug of iced tea is the perfect accompaniment to sunny afternoons with family and friends on the lawn, patio or balcony. Thanks to its generous size, our fabulous BIASCA Infusion Jug with integrated filter is ideal for keeping the drinks – and conversation – flowing.
This distinctive jug was inspired by the small town of Biasca in Switzerland, famed for its unique warm microclimate during otherwise chilly summers. Here, locals would turn to refreshing iced green tea to reinvigorate them after hiking in the mountains.
Crafted from heat-resistant borosilicate glass, this iced tea jug has an integrated filter that prevents any sediment from reaching your cup – so you can enjoy the pure, mild, natural taste of your tea, without any bitterness. Designed for green tea, this infusion jug works equally well with other large leaf teas, as well as water and other infused beverages.
Main Features & Benefits
Award-winning infusion jug for cold brew green tea and other infused beverages
Cold brewing tea eliminates any bitterness while enhancing the natural taste of your brew
Crafted from ultra-light, heat-resistant borosilicate glass that won't alter or impair the taste of your infusion
Jug stays crystal-clear through repeated dishwasher cycles
Plastic lid with a silicone gasket and integrated fine mesh filter that prevents sediment from entering your cup
Easy to use and easy to clean
All parts dishwasher safe
Freezer safe
Available in a choice of colors
Inspired in Switzerland, made in Portugal
Use & Care
Brewing delicious iced tea is simple with the BIASCA Infusion Jug.
Add your favorite green tealeaves into the jug and fill with cold water.
Let it steep in the fridge overnight or for a minimum of five hours.
Add ice cubes and sugar to taste, then pour and enjoy!
After use, simply pop it in the dishwasher.
Item Number

11575-18S

Coming Soon

No

Shatter Proof

No

Color

Copper

Capacity

1.2 L

Width (cm)

14.0

Height (cm)

27.0

Depth (cm)

10.0

EAN

699965373658

Design Line

BIASCA

Bestsellers

No

Material

Plastic, borosilicate glass, rubber, silicone