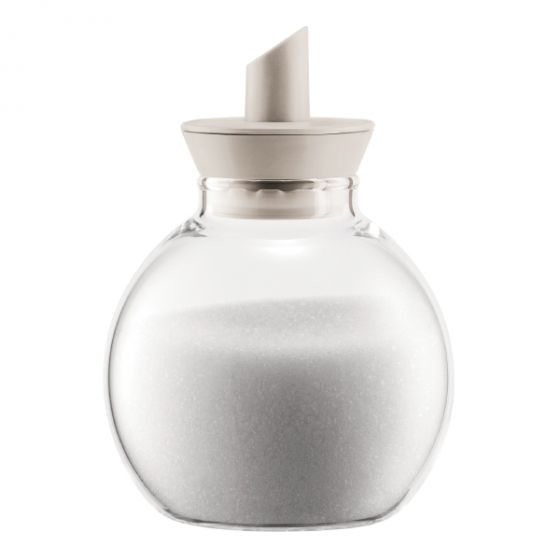 POUR OVER
Sugar dispenser
Shipping Cost (Standard) £2.90

Free Delivery over £35.00

14 Days Return Policy
Thanks to this charming, restaurant-style sugar dispenser, you need never go hunting for a teaspoon or pair of sugar tongs again! Smooth curves ensure that the dispenser is comfortable to hold, while the specially shaped spout lets you sweeten tea or coffee with precision (and without accidentally spilling any sugar). As a result, you can enjoy greater control over the taste of your favourite hot drink. This wonderfully convenient table-top sugar dispenser echoes the distinctive shape of our Pour Over coffee makers, making it ideal for use alongside them. It complements many other styles of brewing system and related items too.
Product Features and Benefits:
• Attractive, contemporary design – well-suited to a wide range of settings 
• Made of sturdy plastic, robust silicone and non-stain, heat-resistant borosilicate glass that doesn't affect the flavour of sugar 
• Specially shaped spout enables you to pour sugar easily and accurately, so you only use what you require 
• Transparent body makes it easy to tell when the dispenser needs to be refilled 
• Dishwasher safe 
• Matching items available. 

Item Number

11597-913B

Color

Off white

Capacity

0.0 L

Width (cm)

8.0

Height (cm)

9.5

Depth (cm)

8.0

EAN

699965292874

Design Line

POUR OVER

Bestsellers

No

Material

Plastic, borosilicate glass, silicone