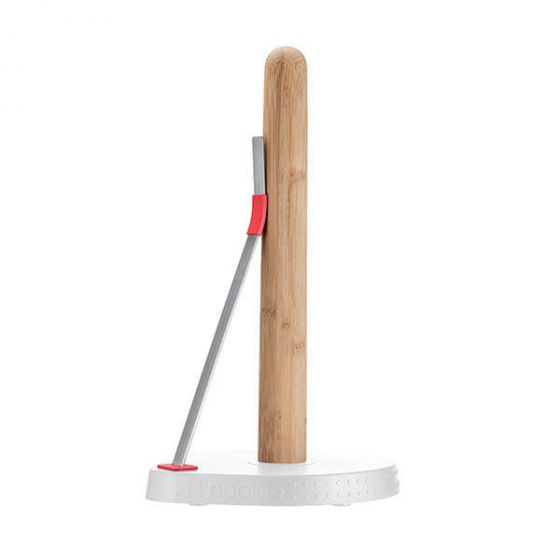 Shipping Cost (Standard) £2.90

Free Delivery over £35.00

14 Days Return Policy
About the BISTRO Paper Roll Holder
Paper towels are indispensible in the kitchen, but to be truly useful they need to be within easy reach, not hidden away at the back of a cupboard. The BISTRO Paper Roll Holder offers a perfect solution. This mobile kitchen roll holder has a minimal footprint on your kitchen countertop, leaving you plenty of room to work.
Its non-slip silicone base protects the paper towels, even if placed on a wet surface, while the stainless steel arm stops the roll from sagging and makes it easy to tear off a sheet one-handed.
With its smart appearance and practical nature, it's the ideal kitchen assistant against those inevitable splashes and spills.
Main Features & Benefits
Kitchen roll holder with self-adjusting arm to hold the roll securely in place
Set on a non-slip silicone base so paper is protected, even if used on a wet worktop
Easy to refill
Fits all size of kitchen roll
Can be moved around with ease
Available in a choice of colors
Use & Care
Wipe clean with a damp cloth.
Item Number

11739-913

Coming Soon

No

Shatter Proof

No

Color

Off white

Capacity

0.0 L

Width (cm)

18.4

Height (cm)

30.0

Depth (cm)

16.1

EAN

699965349950

Bestsellers

No

Material

Stainless steel, Rubber, Plastic, Bamboo