Bodum
DOURO
4 Pcs. Bowl, 0.48 l, 16.2 oz, dia 14.5 cm, 5.7 inch, porcelain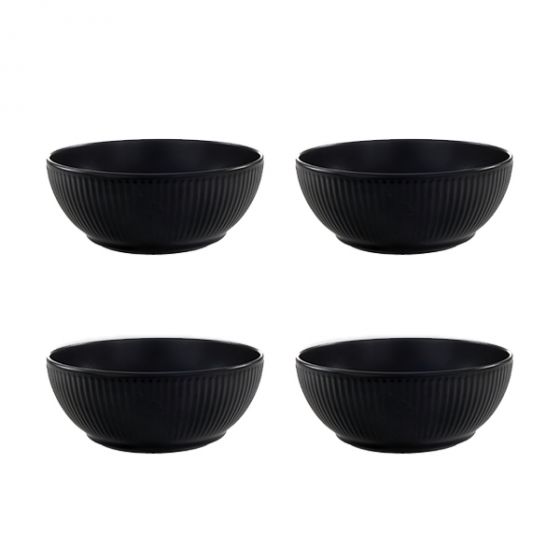 Bodum
DOURO
4 Pcs. Bowl, 0.48 l, 16.2 oz, dia 14.5 cm, 5.7 inch, porcelain
Shipping Cost (Standard) £6.50

Free Delivery over £25.00

14 Days Return Policy
DOURO from BODUM
A special Portuguese landscape simplified in porcelain
The Douro Valley in Portugal is one of Europe's oldest and most beautiful wine regions. With the curved terraces of vines as far as the eye reaches, it has been the inspiration for the fine grooves in BODUM's new porcelain set DOURO. An elegant classic design that is both black and white can stand alone. But which, in its simplicity, can be mixed with other porcelain sets, make a soft contrast to glass and steel, or emphasize warm materials like cork and wood. DOURO is both designed and manufactured in Portugal. The country from which the story began.
You're bound to find yourself using this versatile bowl again and again for all kinds of meals and snacks – and you certainly won't need to worry about it wearing out anytime soon. Because it's made of high-quality porcelain, the bowl is supremely durable and capable of resisting plenty of wear and tear. With its smooth finish and simple styling, it's also wonderfully easy to clean.
Product Features and Benefits:
• Made of durable, attractive porcelain 
• Simple yet chic design – ideal for serving food in a wide variety of settings 
• Perfect size for light meals and snacks 
• Classic white with a smooth finish 
• Versatile and stackable 
• Easy to clean 
• Dishwasher safe 
• Microwave safe 
• Matching items available.

Item Number

11815-259

Coming Soon

No

Shatter Proof

No

Color

Black Matte

Capacity

0.480 L

Width (cm)

14.4

Height (cm)

5.9

Depth (cm)

14.4

EAN

699965408268

Design Line

DOURO

Material

Porcelain