Bodum
BISTRO
Coffee maker, 8 cup, 1.0 l, 34 oz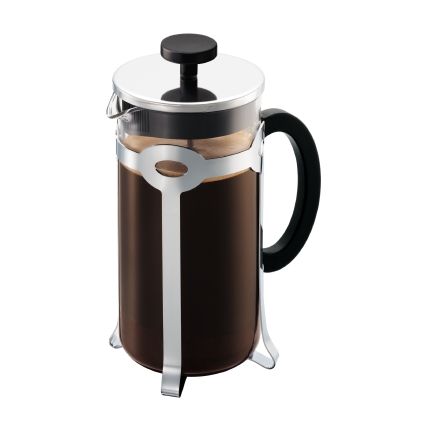 Bodum
BISTRO
Coffee maker, 8 cup, 1.0 l, 34 oz
Shipping Cost (Standard) £6.50

Free Delivery over £25.00

14 Days Return Policy
BISTRO French press coffee maker brew an excellent cup of coffee in the greenest way possible. Just add course ground coffee, hot water in the right temperature (92-96 °C) and press, wait for four minutes and it's ready for serving. It's one of the preferred brewing methods for coffee enthusiasts everywhere.
Pressed coffee extracts the perfect amount of essentials oils from the coffee bean for maximum flavor. The 3-part stainless steel plunger has a filter that helps extract your coffee's aromatic oils and flavors instead of being absorbed by a paper filter.
The coffee carafe is made of the unbreakable material Tritan™, a BPA-free tough plastic used to make various products that you use every day. Tritan™ stay clear, durable and taste-free even after years. Instead of using borosilicate glass and other types of plastic, Tritan™ is much better when looking at both safety and durability.
BISTRO French press is a redesign of the original BISTRO French press, first introduced in 1974.
The BISTRO coffee maker makes 8 cups of coffee. All parts are dishwasher safe.

Item Number

11887-16-10

Shatter Proof

No

Color

Chrome

Capacity

1.0 L

Width (cm)

10.2

Height (cm)

22.3

Depth (cm)

17.0

EAN

699965392529

Material

Silicone, Polypropylene (PP), Polyamide 6 (PA6), IRON DC04, Tritan