Bodum
OKTETT
4pcs Durable Margarita Glass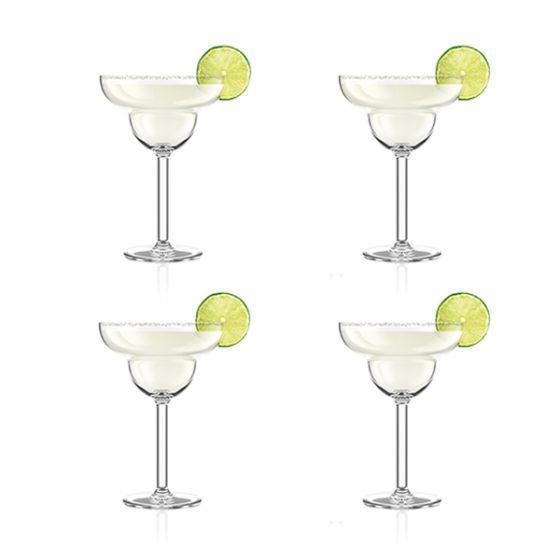 Bodum
OKTETT
4pcs Durable Margarita Glass
Shipping Cost (Standard) £2.90

Free Delivery over £35.00

14 Days Return Policy
About the OKTETT Margarita Glasses
If you like your cocktails with a grain of salt, slice of lime and shot of tequila, you need a classy presentation glass to showcase your creation. A variant of the classic coupe glass, the Oktett margarita glasses were designed especially for margaritas and other tequila-based cocktails – though they are also great for presenting starters and desserts.
Crystal-clear to the eye and lightweight to the touch, these margarita glasses offer the beauty and clarity of glass without its fragility. Crafted from an extremely durable, BPA-free material, these shatterproof margarita glasses won't crack or shatter, and they maintain their clarity through regular use. So they're perfect for outdoor entertaining, such as a picnic or pool party, but smart enough for indoor use too.
And because nobody wants to wash up at the end of a celebration, these margarita glasses are dishwasher safe. So you can enjoy truly carefree entertaining!
Main Features & Benefits
Set of shatterproof margarita glasses.
Lightweight plastic body that's ideal for outdoor use.
Made from an extremely durable material that won't crack, or shatter, and maintains its clarity through regular use.
BPA-free material.
Environmentally friendly glasses that can ultimately be recycled.
Dishwasher safe.
Freezer safe.
Part of the innovative Oktett range of shatterproof glasses, available in a range of shapes to complement different drinks.
Use & Care
Wash the margarita glasses in warm, soapy water before first use and dry thoroughly. For all subsequent uses, wash and dry by hand or pop in the dishwasher.
Item Number

11929-10S

Coming Soon

No

Shatter Proof

Yes

Brand

Bodum

Color

Transparent

Capacity

0.250 L

Width (cm)

11.6

Height (cm)

16.6

Depth (cm)

11.6

EAN

699965416904

Bestsellers

No

Material

Plastic