Bodum
MELIOR
Water bottle, 0.5 l, 17 oz, s/s, polished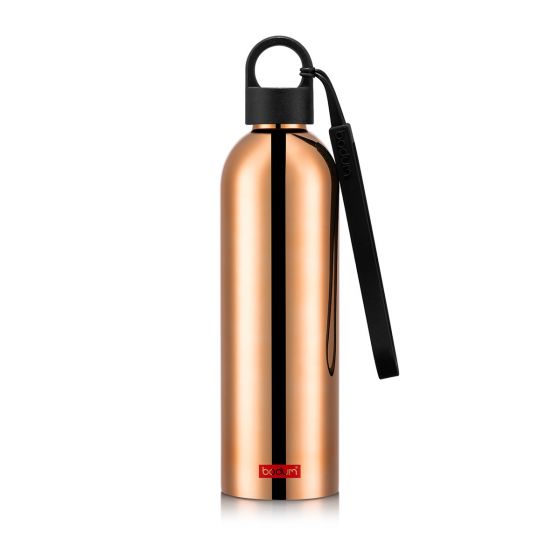 Bodum
MELIOR
Water bottle, 0.5 l, 17 oz, s/s, polished
Shipping Cost (Standard) £2.90

Free Delivery over £35.00

14 Days Return Policy
About the MELIOR Water Bottle
Say hello to the perfect hydration companion: the MELIOR stainless steel water bottle. Designed to complement your busy lifestyle, this leakproof water bottle is ideal whether on your daily commute, going to school, off to the gym or heading out on an adventure.
Crafted from premium quality stainless steel, this lightweight water bottle has a double-wall construction that keeps your water refreshingly cool on a hot day – add a little ice for extra oomph! The exterior stays comfortable to the touch, and there's a silicone strap for easy carrying.
Ideal for the adventurous, this durable bottle is built to last, while the strong, leakproof screw cap ensures you won't suffer any inconvenient spillages in your bag. When the adventure is over, simply pop it in the dishwasher to clean. Best of all this stainless steel water bottle eliminates the need for wasteful single-use bottles, and should it need replacing it's completely recyclable, making it ideal for the environmentally conscious.
Main Features & Benefits
Stainless steel water bottle to keep you hydrated while on the move
Convenient 0.5-liter capacity
Body is crafted from premium quality stainless steel that doesn't stain or leave a tainted taste
Double wall design keeps water cooler for longer without becoming cold to the touch or leaving messy condensation rings
Leakproof screw cap with glass fiber for added strength, and silicone gasket to prevent spillages while on the move
Silicone Bodum strap attached to the lid for easy carrying
Available in a range of colors
Available in brushed or highly polished finish
Dishwasher safe
Use & Care
Wash before first use and after each subsequent use. The MELIOR stainless steel water bottle is dishwasher safe.
Item Number

12057-18BGF-01

Coming Soon

No

Shatter Proof

No

Brand

Bodum

Color

Copper

Capacity

0.5 L

Width (cm)

7.0

Height (cm)

27.0

Depth (cm)

7.0

EAN

699965460075

Design Line

MELIOR

Bestsellers

No

Material

Stainless steel, plastic, silicone