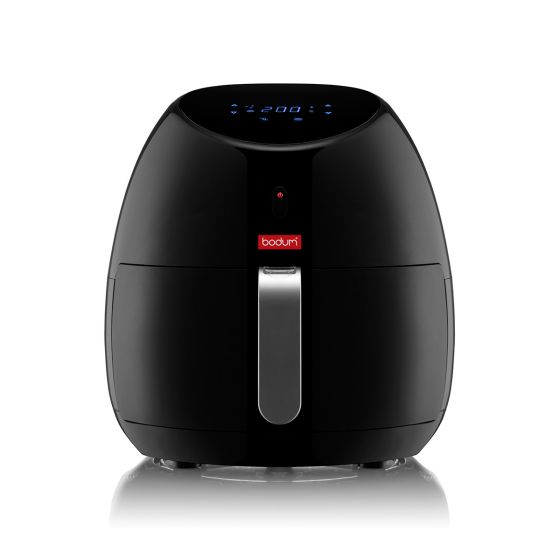 Shipping Cost (Standard) £2.90

Free Delivery over £35.00

14 Days Return Policy
About the MELIOR Air Fryer
Do you love crispy, fried treats but wish there was a healthier way to enjoy your favorite dishes? The MELIOR Air Fryer offers the perfect solution. Using hot rapid air circulation and a top grill, you can enjoy delicious fried food that's crispy on the outside and tender and juicy inside – without any of the fat, mess and odor of deep frying.
This versatile appliance isn't all about frying, either. It's effectively a mini oven, so you can roast a juicy piece of meat, grill some succulent veggies, or bake a delicious cake, too.
Equipped with 8 preset cooking options, a digital control panel and timer alert, this healthy fryer serves up great tasting food that you can enjoy (almost!) guilt-free. Once you've eaten your fill, the clean up is simple too – just remove the basket and give it a soapy wash, and wipe over the appliance with a damp cloth.
As an added bonus, this handsome air fryer looks fantastic on any kitchen worktop.
Main Features & Benefits
Air fryer that offers all the flavor of deep-fried food with little to no oil (and much less guilt!)
Versatile appliance that also bakes, roasts and grills food
Food is cooked using hot rapid air circulation and a top grill for low-fat frying and fast results
Adjustable temperature up to 200ºC/400ºF, with 8 preset options for different food and methods of cooking
Digital control panel for easy use, and timer alarms to alert you when the ingredients need shaking or the program is complete
Detachable drawer and basket for easy access and cleaning
Basket is dishwasher safe
Use & Care
Clean the air fryer before first use and after each subsequent use. Always unplug the appliance, and allow approximately 30 minutes to cool down before cleaning. Clean the basket and pot with hot, soapy water – the basket only can also be cleaned in the dishwasher. Wipe over the inside and outside of the appliance with a damp cloth. Use a cleaning brush to remove any food residue from the heating element.
How It Works
The MELIOR Air Fryer is quick and easy to use.
Carefully pull the drawer out, and place the ingredients you wish to cook inside the basket before sliding the drawer back in.
Press the power button for 3 seconds for the default setting (15 minutes on 200ºC/400ºF), or use the preset options to set the time and cooking temperature you require.
If your ingredients require shaking midway through, a timer bell will ring to alert you.
A timer bell signals when the program has finished. Check the ingredients are ready, then serve and savor.
Once one batch is cooked, the Air Fryer can immediately begin cooking a second batch, if required.
Item Number

12069-01UK

Coming Soon

No

Shatter Proof

No

Color

Black

Width (cm)

31.6

Height (cm)

34.5

Depth (cm)

38.1

EAN

699965450182

Design Line

MELIOR