Bodum
BRAZIL
French Press Coffee maker, 8 cup, 1.0 l, 34 oz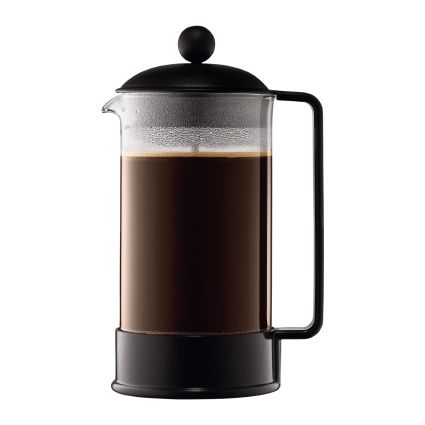 Bodum
BRAZIL
French Press Coffee maker, 8 cup, 1.0 l, 34 oz
Shipping Cost (Standard) £2.90

Free Delivery over £35.00

14 Days Return Policy
About the BRAZIL French Press Coffee Maker
Savor perfectly brewed coffee every day with the BRAZIL French Press Coffee Maker. Part of Bodum's iconic French press brewing range, this superb coffee maker has certainly stood the test of time – it's been brewing seriously good coffee since the 1980s.
Equally at home on the patio or poolside as it is in the kitchen, this coffee maker has a BPA-free plastic carafe that's resistant to scratches and breakages, and is taste and odor resistant. With its lightweight plastic body, handle and domed lid, it looks stylish while epitomizing our motto that 'good design doesn't have to be expensive'.
Combining affordable design with a simple, environmentally friendly brewing system, the BRAZIL French Press Coffee Maker offers everybody the chance to appreciate one of life's great pleasures – a delicious cup of joe. Wherever they are.
Main Features & Benefits
Iconic French press coffee maker that brings out the full flavor and aroma of your brew
Carafe is made of BPA-free plastic that's crystal clear to the eye while remaining resistant to scratches and breakages
The body, handle and domed lid are made from lightweight, BPA-free plastic
Stainless steel plunger and filter prevent ground beans escaping when the coffee is poured
More environmentally friendly than many coffee-brewing methods – no paper filters or plastic capsules required
Easy to use and easy to clean
Dishwasher safe
Use & Care
The French press system is the simplest way to brew rich, flavorful coffee.
Place the BRAZIL on a flat surface, hold the handle firmly, and pull the plunger up and out of the carafe.
Add one rounded teaspoon or one Bodum scoop of coarsely ground coffee for each cup/4oz water.
Pour hot water into the carafe (about 92-96ºC) leaving a minimum of 2.5cm/1inch at the top, and stir with a plastic or wooden spoon.
Place the plunger unit on top of the pot and turn the lid so the pour spout is closed to retain the heat.
Leave four minutes to brew, then slowly lower the plunger. Turn the lid to open the pour spout and pour your delicious cup of joe.
Wash in warm, soapy water before first use and dry thoroughly. All parts are dishwasher safe.
*All of our coffee and tea makers are measured in European cup sizes: 1 Cup = about 4oz
Item Number

1548-01-10

Coming Soon

No

Shatter Proof

No

Color

Black

Capacity

1.0 L

Width (cm)

14.1

Height (cm)

23.0

Depth (cm)

10.7

EAN

699965401801

Material

Stainless steel, plastic