CHAMBORD®
Milk frother with glass handle, 0.25 l, 8 oz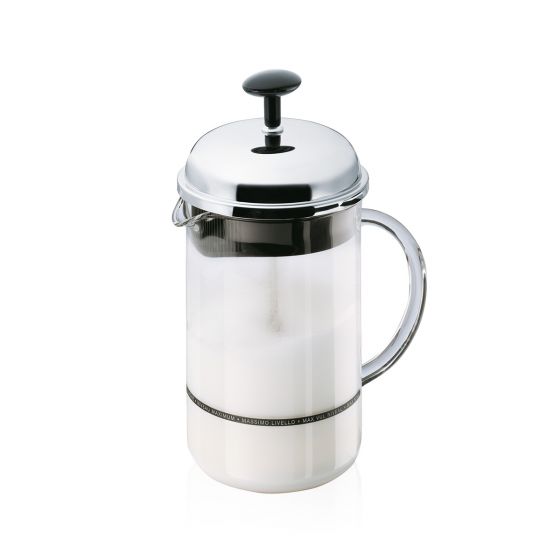 CHAMBORD®
Milk frother with glass handle, 0.25 l, 8 oz
Shipping Cost (Standard) £2.90

Free Delivery over £35.00

14 Days Return Policy
About the CHAMBORD Manual Milk Frother
Recreate your favorite coffeehouse drinks in the comfort of your home, courtesy of the CHAMBORD manual milk frother. Ideal for cappuccino, latte, mocha or a creamy hot chocolate, this nifty little gadget ensures that all your favorite drinks are at your fingertips, whenever you desire them.
Running on people-power alone – no electricity or batteries required here – this magical milk frother transforms cold milk into smooth, rich and indulgent foam in less than a minute. If you prefer hot froth, simply pop it in the microwave for 30 seconds before adding it to your beverage.
Crafted from premium quality borosilicate glass, the CHAMBORD milk frother has a stainless steel and plastic plunger, and a glass handle for comfortable hold while plunging. This manual milk frother complements other items in the CHAMBORD range for the perfect at-home coffee experience.
Main Features & Benefits
Manual milk frother that creates a smooth, consistent foam without the need for electricity or batteries
Easy to use – simply pump the plunger until the milk doubles in volume
Quick to operate – make delicious frothy milk in less than a minute
Can be used for hot or cold foam
Jug is made from borosilicate glass with a plastic and stainless steel plunger
Glass handle makes it easy to hold the jug while plunging
Part of the iconic CHAMBORD range
Easy to clean – this item is dishwasher safe (except the copper version)
The beaker is also safe to use in the microwave
Use & Care
Making delicious, silky froth is easy with the CHAMBORD milk frother.
Add milk to the maximum line – use skimmed or low-fat milk for the best results.
Place the jug on a flat surface.
Pop the lid on, ensuring that the pouring outlet is closed.
Manually pump the plunger between 60 and 90 times – you will feel the milk gradually become thicker.
Leave the milk to settle for a minute before pouring. For hot froth, pop the jug of frothed milk into the microwave for 30–50 seconds.
Wash the milk frother in hot, soapy water before first use and dry thoroughly. After use, all parts can be cleaned in the dishwasher (aside from the copper version).
Item Number

1966-16

Coming Soon

No

Shatter Proof

No

Color

Chrome

Capacity

0.250 L

Width (cm)

15.7

Height (cm)

21.4

Depth (cm)

10.5

EAN

727015238487

Design Line

CHAMBORD®

Bestsellers

No

Material

Stainless steel, plastic, borosilicate glass