HOT POT GOURMET
Measuring jug, 1.0 l, 34 oz, glass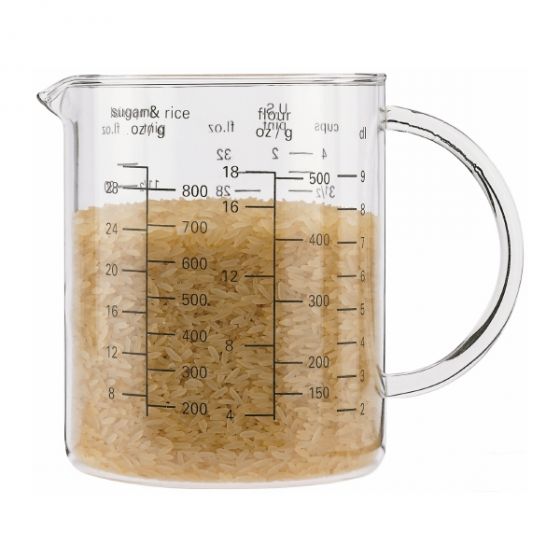 HOT POT GOURMET
Measuring jug, 1.0 l, 34 oz, glass
Shipping Cost (Standard) £2.90

Free Delivery over £35.00

14 Days Return Policy
About the HOT POT GOURMET SET Measuring Jug with Lid
Stylish, durable and practical, the HOT POT GOURMET SET Measuring Jug with Lid is a kitchen essential. This versatile jug can be used for measuring, mixing, pouring, or simply storing sauce or gravy.
Crafted from premium quality borosilicate glass, the measuring jug is built to last without absorbing taste or aroma. Lightweight yet robust, it's heat-resistant, scratch-resistant, and lasts numerous dishwasher cycles without clouding. And it comes in handy for all sorts of cooking and baking tasks.
Clear measurements are shown in grams, ounces, cups, fluid ounces, liters and pints, while common ingredients such as sugar and rice are noted in English and German. This handy measuring tool is quite the multitasker, and will be a kitchen staple for years to come.
Main Features & Benefits
Versatile measuring jug that helps you to measure small and large amounts quickly and accurately
Crafted from heat-resistant borosilicate glass that doesn't absorb taste or aroma
Clear, easy-to-read measurements shown in grams, ounces, cups, pints, fluid ounces and liters for precise measuring
Portion sizes shown in English and German
Handy lip and glass handle for easy pouring
Set comes with a black plastic lid with silicone seal
Easy to use and easy to clean
Available in a choice of sizes
Dishwasher safe
Use & Care
Wash in warm soapy water before first use and dry thoroughly. Dishwasher safe.
Item Number

4455-10

Coming Soon

No

Shatter Proof

No

Color

Transparent

Capacity

1.0 L

Width (cm)

12.0

Height (cm)

13.5

Depth (cm)

11.0

EAN

727015258522

Design Line

HOT POT GOURMET

Bestsellers

No

Material

Borosilicate glass