CHAMBORD®
2 pcs coffee glass, large, 0.3 l, 10 oz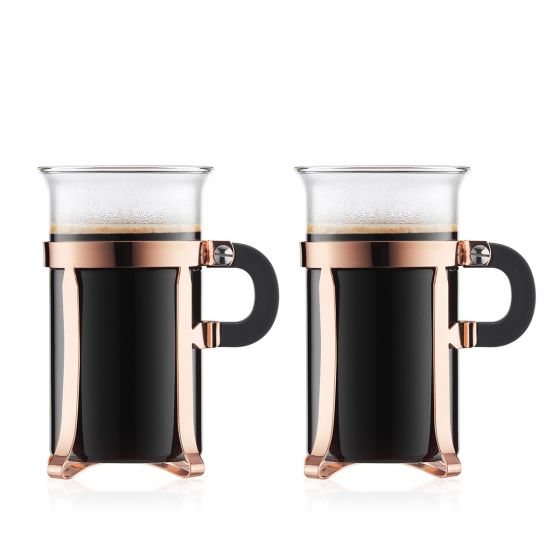 CHAMBORD®
2 pcs coffee glass, large, 0.3 l, 10 oz
Shipping Cost (Standard) £2.90

Free Delivery over £35.00

14 Days Return Policy
About the CHAMBORD Coffee Glasses
Once your coffee has been brewed to perfection, there's only one way to serve it: in the CHAMBORD Coffee Glasses. Designed in classic coffeehouse style, these elegant coffee glasses bring a little flair to your breakfast table.
Crafted from non-stain, heat-resistant borosilicate glass and wrapped in a distinctive copper-plated stainless steel frame, these coffee glasses are beautiful to behold, while their smooth plastic handle makes them supremely comfortable to use.
Featuring the same timeless design and superior craftsmanship characteristic of our CHAMBORD range, these coffee glasses are the perfect complement to the classic CHAMBORD French Press or CHAMBORD Teapot.
Main Features & Benefits
Set of sleek, contemporary coffee glasses in our iconic CHAMBORD range
Stylish design that's practical and elegant
Crafted from non-stain, heat-resistant borosilicate glass that won't alter or impair the flavor of its contents
Housed in a protective frame made from durable, rust-resistant, copper-plated stainless steel with little feet for added stability
Easy to pick up and comfortable to hold, thanks to the sturdy CHAMBORD handles in smooth black plastic
Suitable for hot and cold drinks
Glass is dishwasher safe
Matching items available
Use & Care
Wash in warm soapy water before first wash and dry thoroughly. Only the glass is dishwasher safe, so remove the copper frames before placing in the dishwasher.
Item Number

4912-18

Coming Soon

No

Shatter Proof

No

Color

Copper

Capacity

0.3 L

Width (cm)

10.0

Height (cm)

13.0

Depth (cm)

7.5

EAN

699965304010

Design Line

CHAMBORD®

Material

Copper, stainless steel, glass