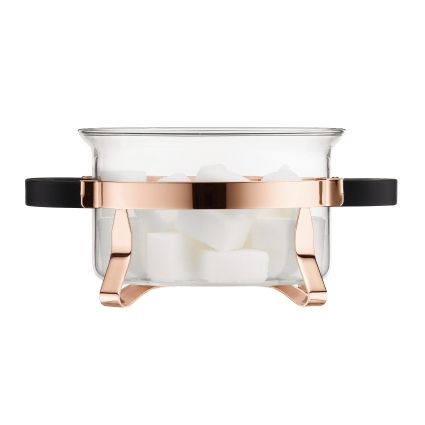 Shipping Cost (Standard) £2.90

Free Delivery over £35.00

14 Days Return Policy
About the CHAMBORD Sugar Bowl
Make your day a little sweeter with the help of the stylish CHAMBORD Sugar Bowl. Its distinctive design is the result of a harmonious partnership between elegance and ease of use. Borosilicate glass is the ideal choice of material for the bowl itself, as it doesn't alter or impair sugar's natural flavor. The stainless steel frame, with its chic copper finish and signature CHAMBORD handles, both protects and enhances the glass.
Thanks to its eye-catching shape and subtle sheen, this high-quality sugar bowl perfectly matches the copper-plated CHAMBORD coffee makers, teapots and related items (available separately), while also complementing many other tableware styles.
Main Features & Benefits
Sugar bowl in our iconic CHAMBORD range
Stylish design that's practical and elegant
Crafted from non-stain, heat-resistant borosilicate glass that won't alter or impair the flavor of its contents
Housed in a protective frame made from durable, rust-resistant, copper-plated stainless steel with little feet for added stability
Easy to pick up and comfortable to hold, thanks to the sturdy CHAMBORD handles
Glass is dishwasher safe
Matching items available
Use & Care
Wash in warm soapy water before first wash and dry thoroughly. Only the glass is dishwasher safe, so remove the copper frame before placing in the dishwasher.
Item Number

4915-18

Color

Copper

Capacity

0.0 L

Width (cm)

14.0

Height (cm)

6.6

Depth (cm)

10.0

EAN

699965304591

Design Line

CHAMBORD®

Material

Copper, stainless steel, glass