BODUM CHEF
Pot with lid, 5.4 l, 182 oz, dia 24 cm, 9.5 inch, tri-ply s/s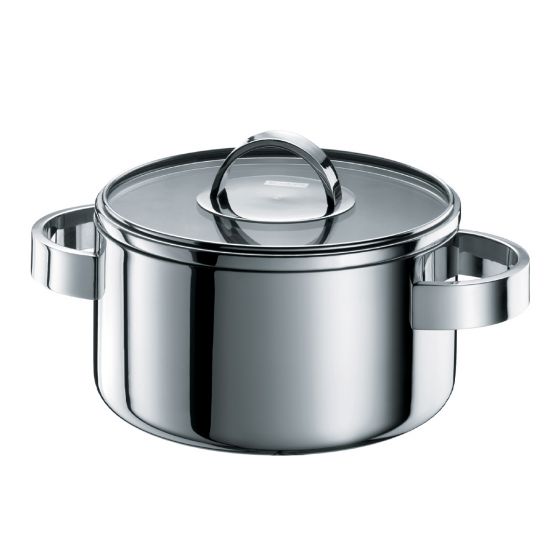 BODUM CHEF
Pot with lid, 5.4 l, 182 oz, dia 24 cm, 9.5 inch, tri-ply s/s
Shipping Cost (Standard) £7.90

Free Delivery over £59.00

14 Days Return Policy
Part of our collection of premium-quality cookware, the BODUM® CHEF stainless steel cooking pot with a transparent lid has a sophisticated appearance and performs superbly, so you'll feel like a professional chef in your kitchen at home. The advanced, tri-ply construction helps to ensure that food is heated evenly every time. Whatever happens to be bubbling away merrily inside – satisfying soup, a hearty stew or fresh pasta, perhaps – you can lift the pot easily and safely off your hob, even when it's full, with the aid of the sturdy handles. Thanks to its smooth, glossy finish, the pot is easy to clean – and looks fabulous on display!
Product Features and Benefits:
• Attractive, ergonomic design 
• Advanced, tri-ply construction for superb performance 
• Made of durable, rust-resistant stainless steel and robust glass 
• Strong, sturdy handles enable you to pick up the pot and lid comfortably and securely 
• Transparent lid makes monitoring the cooking process easy 
• Chic chrome appearance 
• Easy to clean 
• Matching items available.

Item Number

K10024-16

Coming Soon

No

Shatter Proof

No

Color

Chrome

Capacity

5.4 L

Width (cm)

33.0

Height (cm)

16.6

Depth (cm)

24.6

EAN

727015497983

Design Line

BODUM CHEF

Material

Tri-Ply (stainless steel + aluminium), Stainless Steel, Glass