BODUM CHEF
Sauce pan with lid, 1.5 l, 51 oz, dia 16 cm, 6.3 inch, tri-ply s/s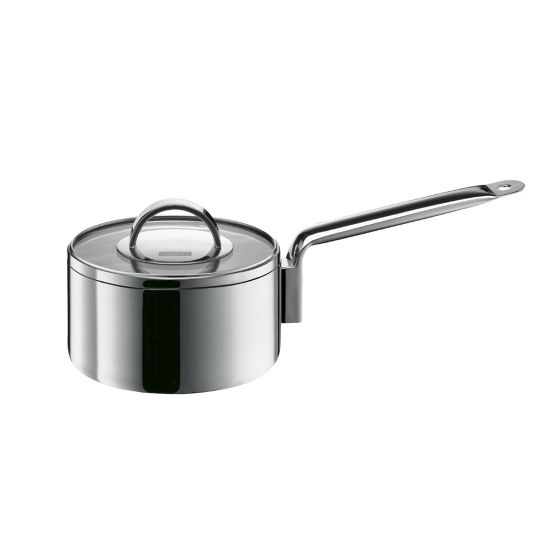 BODUM CHEF
Sauce pan with lid, 1.5 l, 51 oz, dia 16 cm, 6.3 inch, tri-ply s/s
Shipping Cost (Standard) £6.50

Free Delivery over £25.00

14 Days Return Policy
For cookware that even a cordon bleu chef would be proud to use, try this premium-quality stainless steel saucepan with a transparent lid. It has all the hallmarks of the cutting-edge BODUM® CHEF collection, in particular a practical yet attractive design, advanced features, incredible durability and first-class performance. Thanks to its superior tri-ply construction, this medium-sized pan can be relied on to cook a tremendous range of food thoroughly and evenly on your hob, making it a brilliant all-rounder. In addition, clean lines and a smooth finish ensure that remarkably little effort is required to keep it looking spotless, even when you use it day after day. 
Product Features and Benefits:
• Attractive, ergonomic design 
• Advanced, tri-ply construction for superb performance 
• Made of durable, rust-resistant stainless steel and robust glass 
• Long, sturdy handle enables you to lift the saucepan comfortably and securely 
• Transparent lid makes monitoring the cooking process easy 
• Can be stored in a cupboard or hanging from a hook 
• Chic chrome appearance 
• Easy to clean 
• Matching items available.

Item Number

K10035-16

Coming Soon

No

Shatter Proof

No

Color

Chrome

Capacity

0.0 L

Width (cm)

36.6

Height (cm)

12.6

Depth (cm)

16.6

EAN

727015550688

Design Line

BODUM CHEF

Material

Tri-Ply (stainless steel + aluminium), Stainless Steel, Glass