Bodum
CHEF
Carving Knife Set, 20cm and 25cm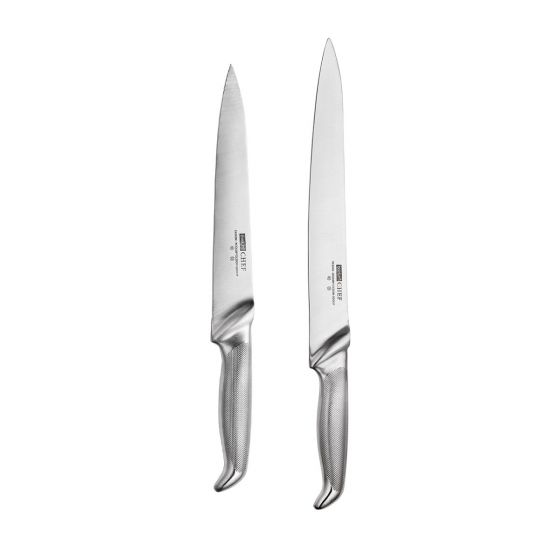 Bodum
CHEF
Carving Knife Set, 20cm and 25cm
Shipping Cost (Standard) £2.90

Free Delivery over £35.00

14 Days Return Policy
About the CHEF Knife Set
Ask any chef about their most treasured kitchen tools and they don't even blink before they answer. The answer is always the same – knives. Most chefs have their own knife set and it might be wise not to get caught touching it.
Chefs don't share knives even if they're usually reasonably nice people. Knives are strictly personal. Well, all right then, you'll have to get your own. This is where our BODUM® CHEF Stainless Steel Blade Knives come in.
They're a dream to work with – whatever you're making for dinner. Meat comes miraculously off the bone, fish gets artfully filleted and chopping fruit and vegetables becomes a joy instead of a chore. In this regard you might say good knives are key to a healthier lifestyle.
The BODUM® CHEF Stainless Steel Blade Knives are of exquisite quality. Their ergonomically shaped handles give a safe and comfortable cutting experience.
This Knife Set includes:
One 20cm carving knife
One 25cm carving knife
Item Number

K10064-57B

Coming Soon

No

Shatter Proof

No

Brand

Bodum

Color

Matt Chrome

Width (cm)

41.0

Height (cm)

0.8

Depth (cm)

18.0

EAN

699965316334

Design Line

CHEF

Bestsellers

No

Material

Stainless steel