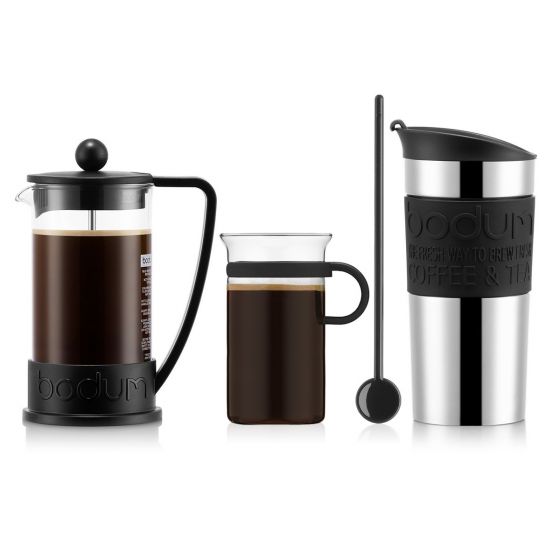 Shipping Cost (Standard) £2.90

Free Delivery over £35.00

14 Days Return Policy
About the Cafetière Set Gift
Give the gift of delicious coffee with the cafetière gift set. This delightful collection combines our BRAZIL coffee maker with a stylish coffee glass and our popular TRAVEL MUG, so you can enjoy perfectly brewed coffee every day, whether you're relaxing at home or on the go with a busy schedule.
Simple, stylish and swift, the BRAZIL French press coffee maker transforms coarsely ground beans and hot water into that most reinvigorating of drinks in minutes, while preventing grounds from escaping.
Pour your freshly made coffee into the matching cup (which is made of heat-resistant borosilicate glass, just like the coffee maker) or take it with you wherever the day takes you in the non-spill, stainless steel TRAVEL MUG with non-slip silicone band. As the TRAVEL MUG retains heat superbly, you can sip away happily throughout your journey.
Plus, the smooth, extra-long spoon enables you to stir vigorously without scratching or marking the drinkware. Whether treating yourself or the coffee devotee in your life, this coffee gift set is sure to impress.
Caution: Make sure the Bodum Travel Mug stays upright when full. Due to safety reasons, the mug is not leakproof due to possible overpressure.
Main Features & Benefits
Cafetière gift set includes one BRAZIL French Press coffee maker (makes up to three cups at once), 0.3l coffee glass, 0.35l TRAVEL MUG and long-handled 20cm spoon
Our iconic French Press coffee-making system swiftly and effectively brings out the full flavor of coarsely ground beans for perfectly brewed coffee every time
Made of durable, rust-resistant stainless steel, sturdy plastic and non-stain, heat-resistant borosilicate glass that won't alter or impair the coffee's natural flavor
Transparent carafe makes the whole brewing process visible
Plunger prevents ground beans escaping when the coffee is poured
Strong handles enable you to pick up and hold the coffee maker and coffee glass safely and comfortably
TRAVEL MUG features a non-slip, easy-to-grip silicone band for drinking on the move
Smooth, glossy spoon won't scratch or mark the coffee glass or TRAVEL MUG
More environmentally friendly than ordinary coffee-making systems – no paper filters or plastic capsules
Easy to use and easy to clean
Use & Care
The French press system is the simplest way to brew rich, flavorful coffee.
Place the BRAZIL on a flat surface, hold the handle firmly, and pull the plunger up and out of the carafe.
Add one rounded teaspoon or one Bodum scoop of coarsely ground coffee for each cup/4oz water.
Pour hot water into the carafe (about 92-96ºC) leaving a minimum of 2.5cm/1inch at the top, and stir with a plastic or wooden spoon.
Place the plunger unit on top of the pot and turn the lid so the pour spout is closed to retain the heat.
Leave four minutes to brew, then slowly lower the plunger. Turn the lid to open the pour spout and pour your delicious cup of joe.
Wash in warm, soapy water before first use and dry thoroughly. All parts are dishwasher safe.
*All of our coffee and tea makers are measured in European cup sizes: 1 Cup = about 4oz.
Item Number

K10948-01

Coming Soon

No

Shatter Proof

No

Color

Black

Capacity

0.350 L

Width (cm)

0.0

Height (cm)

0.0

Depth (cm)

0.0

EAN

699965287900

Design Line

BRAZIL

Bestsellers

No

Material

Stainless steel, plastic, borosilicate glass