YO-YO SET
Mug and tea strainer, 0.35 l, 12 oz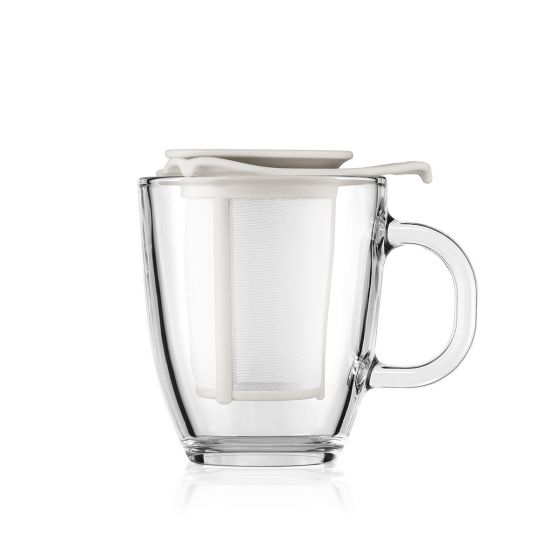 YO-YO SET
Mug and tea strainer, 0.35 l, 12 oz
Shipping Cost (Standard) £2.90

Free Delivery over £35.00

14 Days Return Policy
About the NEW YO-YO SET
When it's time for tea, there's a certain satisfaction with brewing loose-leaf tea. It's fresher, it teases out the full flavor and aroma of your tealeaves – and of course it's sustainable too! But sometimes you may not want to brew an entire pot. On these occasions, reach for the NEW YO-YO SET.
This nifty set is the perfect way to brew a single cuppa with maximum taste and zero waste. Crafted from BPA-free plastic, the tea strainer sits on the rim of your mug while the generous infuser fits inside, allowing the tealeaves space to unfurl and swirl freely. Its multi-purpose lid keeps tea warm while brewing and doubles as a trivet to prevent dripping when the infuser is removed.
This delightful set includes a BISTRO glass mug. Crafted from durable tempered glass with a clean, minimalist design, you can admire the visual beauty of your tea brewing before savoring its great taste.
Main Features & Benefits
Set includes one tea strainer with lid and a BISTRO glass mug
Tea strainer crafted from stainless steel
Lid keeps tea warm while brewing and doubles as a trivet to prevent dripping
Can be used with all loose leaf teas
BISTRO mug made of durable, tempered glass
Dishwasher safe
BISTRO mug is also safe for use in the microwave and oven
Use & Care
Place the NEW YO-YO SET on a flat, heatproof, non-slip surface.
Add your preferred tealeaves into the strainer.
Pour in hot water.
Pop the lid on the tea strainer and let your tea brew – we recommend 3-5 minutes for black tea, or 5-10 minutes for herbal and fruit teas.
Once your tea is at its preferred strength, remove the tea strainer and enjoy.
Wash in warm, soapy water before first use and dry thoroughly. All parts are dishwasher safe.
Item Number

K11239-913

Coming Soon

No

Shatter Proof

No

Color

Off white

Capacity

0.350 L

Width (cm)

10.0

Height (cm)

11.5

Depth (cm)

12.5

EAN

699965235345

Design Line

YO-YO®

Bestsellers

No

Material

Plastic, tempered glass