Bodum
BISTRO
Salad server set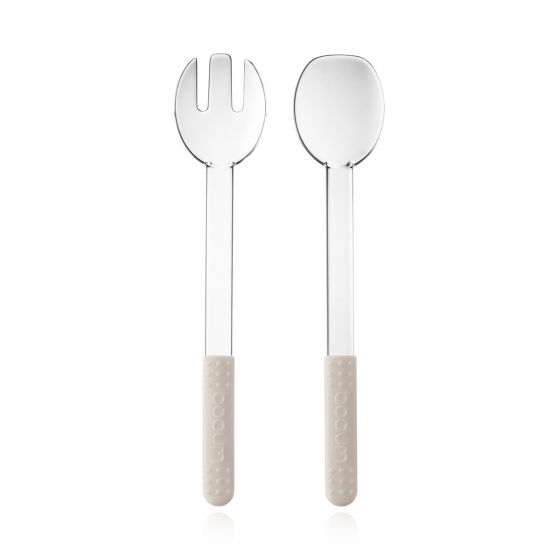 Bodum
BISTRO
Salad server set
Shipping Cost (Standard) £2.90

Free Delivery over £35.00

14 Days Return Policy
About the BISTRO Salad Server Set
Crisp, colorful salads with a variety of dressings and toppings are delightful to look at, delicious for lunch or dinner – and difficult to serve with ordinary cutlery! That's where our practical yet stylish BISTRO Salad Server Set shines.
Crafted from durable, BPA-free, transparent plastic, the long-handled serving spoon and fork have wide heads that make it easy to scoop up and serve food. Colorful rubber grips encase the base of the stem, making the salad servers comfortable to hold – while adding a dash of color and fun to your table.
This durable salad server set is also ideal for mixing and tossing, either as part of the preparation stage or to reinvigorate the salad during your meal. Plus, they're dishwasher safe for fuss-free cleaning.
Main Features & Benefits
Stylish salad servers, perfect for dishing up salads, vegetables, French fries and other dishes
Simple yet stylish design complements a wide range of table settings
Specially shaped wide heads make it easy to pick up and serve food
Made of smooth, sturdy, durable, transparent plastic
Rubber grips on the stem of the utensils offer firm and comfortable hold
Ideal for indoor and outdoor use
Available in a choice of colors
Dishwasher safe
Use & Care
Wash in warm, soapy water before first use and dry thoroughly. Dishwasher safe.
Item Number

K11345-913

Coming Soon

No

Shatter Proof

No

Brand

Bodum

Color

Off white

Width (cm)

29.5

Height (cm)

1.5

Depth (cm)

6.2

EAN

699965102920

Design Line

BISTRO

Bestsellers

No

Material

Plastic, rubber