MELIOR®
Bar set - Cork Screw + Foil cutter + stopper + wine pourer.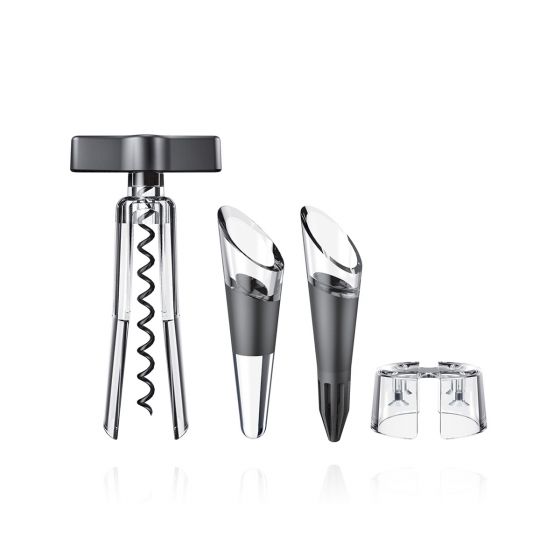 MELIOR®
Bar set - Cork Screw + Foil cutter + stopper + wine pourer.
Shipping Cost (Standard) £2.90

Free Delivery over £35.00

14 Days Return Policy
About the MELIOR Bar Set
The brilliant MELIOR Bar Set offers a complete collection of wine accessories, perfect for any oenophile. This four-piece set includes everything you need to open your wine with ease, enjoy it at its best, and preserve its freshness that little bit longer.
The small but brilliant foil cutter has four sharp blades that deliver a perfect cut to prepare the neck of your wine bottle for opening. Next, reach for the corkscrew. Effortless and easy to use, it has a smooth de-corking mechanism that makes opening bottles a breeze.
Once opened, pop the multi-talented wine pourer and aerator into the neck of your bottle. The aerator gently airs the wine as you pour, teasing out the full flavor and aroma of your wine without the need for a decanter. And if you don't wish to finish your bottle in one sitting, the bottle stopper seals the opening, preserving the freshness of your wine for a few more days.
Essential for any wine enthusiast, the delightful MELIOR Bar Set is a perfect present for the wine lover in your life.
Main Features & Benefits
Bar set includes a MELIOR Corkscrew, Foil Cutter, Wine Pourer and Aerator, and a Bottle Stopper
Sleek corkscrew with an effortless de-corking mechanism, suitable for all bottle sizes and both natural and synthetically corked wines
Stylish foil cutter with four sharp blades that quickly and safely removes foil and plastic seals from wine bottles
Multi-functional wine pourer and aerator that oxygenates wine as you pour, enhancing its taste, aroma and finish
Non-drip pourer offers a smooth flow, while preventing messy drips
Elegant bottle stopper extends the life of opened bottles of wine
Easy to use and easy to clean
Made in Portugal
Use & Care
All items are dishwasher safe.
Item Number

K11738-01

Coming Soon

No

Shatter Proof

No

Color

Black

Capacity

0.0 L

Width (cm)

0.0

Height (cm)

0.0

Depth (cm)

0.0

EAN

699965366438

Material

Stainless steel, plastic