Bodum
PRESSO
2 pcs storage jar 2.0 l, 68 oz, BPA-free plastic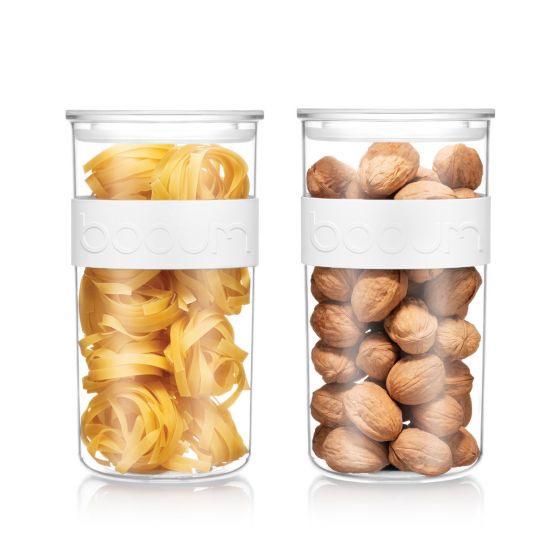 Bodum
PRESSO
2 pcs storage jar 2.0 l, 68 oz, BPA-free plastic
Shipping Cost (Standard) £2.90

Free Delivery over £35.00

14 Days Return Policy
About the PRESSO Storage Jars
Embrace the art of kitchen organization with the PRESSO Storage Jars. These airtight plastic storage jars will help you conquer kitchen clutter and store your food in style.
The perfect blend of utility and design, our PRESSO storage collection offers stylish storage solutions for your kitchen. Constructed from recyclable, BPA-free plastic with an airtight lid, these food storage containers ensure contents stay fresher for longer, while remaining visible at a glance.
Versatile and flexible, these plastic storage jars are the ideal containers for cereal, pasta, flour, sugar, nuts, beans, coffee, tea and other foodstuff, and perfect for storing various liquids. A silicone band circles the jars offering comfortable grip and a dash of color, and they epitomize Bodum's belief that good design should be affordable.
Main Features & Benefits
Made of recyclable, BPA-free plastic, which is shatterproof and doesn't alter or impair the flavor of its contents
Can handle high temperatures and high acidity products without risk of discoloration
Safely store a variety of foodstuffs, from cereals and pasta to fresh fruit and liquids
Silicone band with Bodum logo for comfortable grip
Lightweight and crystal-clear
Airtight lid to help keep food fresh
Available in a choice of colors
Available in a range of capacities
Dishwasher safe
Use & Care
Wash in warm, soapy water before first use and dry thoroughly. All items are dishwasher safe.
Item Number

K11830-913SA

Coming Soon

No

Shatter Proof

Yes

Brand

Bodum

Color

Off white

Capacity

2.0 L

Width (cm)

12.5

Height (cm)

22.5

Depth (cm)

12.5

EAN

699965407162

Design Line

PRESSO

Bestsellers

No

Material

Plastic