BISTRO
set of 4 silicone straws and cleaning brush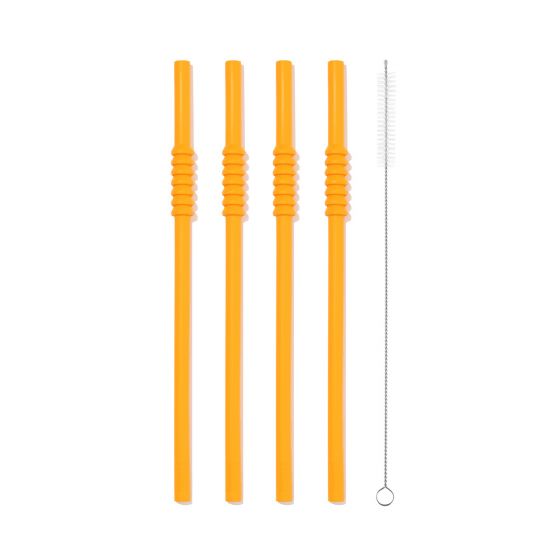 BISTRO
set of 4 silicone straws and cleaning brush
Shipping Cost (Standard) £2.90

Free Delivery over £35.00

14 Days Return Policy
About the BISTRO Silicone Straws
Sip sustainably with the new BISTRO silicone straws. Using a straw makes drinking that little bit more fun, plus dentists agree that it's a great tool for protecting your teeth against decay and staining. But traditional single-use straws have long been a blight on our environment.
A fun, zero-waste alternative to plastic straws, this reusable straw is made from premium quality, food-grade, BPA-free silicone. Lightweight to hold, it feels gentle on your mouth, unlike glass and stainless steel straws, so is perfect for use for every age from children to the elderly.
Silicone straws can be used with hot and cold beverages, and at 24cm long it's great for large tumblers.
Available in a pack of four with a cleaning brush for hygienic cleaning, the BISTRO reusable straw makes a great gift for your environmentally conscious friends.
Main Features & Benefits
Pack of four reusable silicone straws for use with hot or cold liquids.
Made of BPA-free, food-grade silicone that feels gentle in the mouth.
24 cm long with a flexible bend for easy use.
Comes with a stainless steel and plastic brush for easy cleaning.
Saves money and reduces plastic waste.
Available in a choice of colors.
Dishwasher safe.
Use & Care
Wash before first use. Clean after every use with the cleaning brush for hygienic manual cleaning or pop in the dishwasher.
Item Number

K12035-449-Y21

Coming Soon

No

Shatter Proof

No

Width (cm)

1.3

Height (cm)

24.0

Depth (cm)

1.3

Bestsellers

No