Bodum
BISTRO NOUVEAU
Coffee Press, double wall, 8 cups, with fridge lid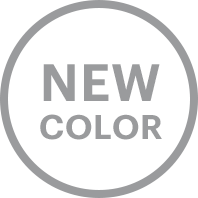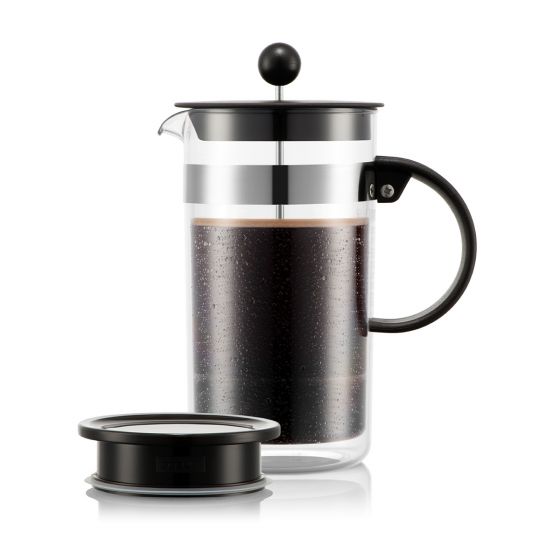 Bodum
BISTRO NOUVEAU
Coffee Press, double wall, 8 cups, with fridge lid
Shipping Cost (Standard) £2.90

Free Delivery over £35.00

14 Days Return Policy
About the BISTRO NOUVEAU French Press Coffee Maker with Extra Lid
Whether you're seeking stone cold satisfaction on a hot summer day or a warming cup of joe on a chilly morning, reach for the BISTRO NOUVEAU French Press Coffee Maker. This versatile cafetière makes equally delicious full-bodied hot coffee with a robust aroma or smooth, refreshing, naturally sweet cold brew.
The BISTRO NOUVEAU has a modern minimalist style with a simple stainless steel band circling the carafe, accented with a colored plastic lid and handle. The carafe is crafted from non-stain, BPA-free SAN plastic that won't alter or impair the flavor of your delicious joe, and is able to withstand hot and cold temperatures with ease.
This coffee set includes two lids: a plunger lid that extracts maximum flavor and aroma from your coffee while preventing grounds escaping into your cup, and a fridge lid that seals in taste and aroma and preserves freshness. So you can enjoy your coffee exactly as you like it, all year round!
Main Features & Benefits
French press coffee maker for hot or cold brew coffee
Comes with two lids: a plunger lid that preserves taste and aroma while coffee is brewing, and an improved silicone lid for the fridge
Carafe is made of non-stain, BPA-free SAN plastic that won't alter or impair the coffee's natural flavor
Stainless steel plunger and filter prevent ground beans escaping when the coffee is poured
Color-coordinated plastic lid and handle, which is held in place by a brushed stainless steel band
More environmentally friendly than many coffee-brewing methods – no paper filters or plastic capsules required
Available in a choice of colors
Easy to use and easy to clean
Dishwasher safe
Use & Care
To brew hot coffee:
Place the BISTRO NOUVEAU on a flat surface, hold the handle firmly, and pull the plunger up and out of the carafe.
Add one rounded teaspoon or one Bodum scoop of coarsely ground coffee for each cup/4oz water.
Pour hot water into the carafe (about 92-96ºC) leaving a minimum of 2.5cm/1inch at the top, and stir with a plastic or wooden spoon.
Place the plunger unit on top of the pot and turn the lid so the pour spout is closed to retain the heat.
Leave four minutes to brew, then slowly lower the plunger. Turn the lid to open the pour spout and pour your delicious cup of joe.
To brew cold coffee:
Place the cold coffee brewer on a flat surface and remove the plunger.
Add coarse ground coffee – we recommend using twice your usual amount
Add fresh cold water and stir with a plastic spoon.
Put the lid on, place the jug in the refrigerator, and let your coffee brew for 12 to 24 hours.
After brewing, remove from the refrigerator, swap the lid for the plunger, and gently but firmly plunge your coffee.
Ensure the lid is in the locked position, then pour your delicious cold brew coffee.
Wash in warm, soapy water before first use and dry thoroughly. All parts are dishwasher safe.
Item Number

K12093-451-Y21

Coming Soon

No

Shatter Proof

No

Color

Dark Roast

Capacity

1.0 L

Width (cm)

0.0

Height (cm)

0.0

Depth (cm)

0.0

EAN

699965458324

Material

stainless steel, silicone, plastic