Bodum
BODUM COLUMBIA SET
Sugar and creamer set, s/s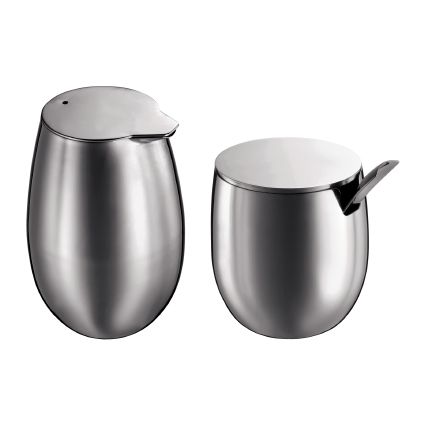 Bodum
BODUM COLUMBIA SET
Sugar and creamer set, s/s
Shipping Cost (Standard) £2.90

Free Delivery over £35.00

14 Days Return Policy
About the BODUM COLUMBIA Sugar and Creamer Set
If your tea or coffee isn't complete without a little sweetness and a dash of milk or cream, this distinctive sugar and cream set will be welcome additions to your home. With its simple, minimalist design and distinct curvy style, the COLUMBIA Sugar and Creamer Set makes an eye-catching addition to your family breakfast table or afternoon tea gathering.
Crafted from polished stainless steel, the sugar bowl and creamer have a double wall design that keeps milk cool and sugar dry, with matching lids to protect the contents. The set's gentle curves and metallic luster are a perfect match for other items in the BODUM COLUMBIA range, while they look equally attractive among other styles of tableware.
Main Features & Benefits
Sugar and cream set in our stylish COLUMBIA range
Minimalist design that's practical and elegant
Crafted from polished stainless steel that won't alter or impair the flavor of its contents
Double wall design that keeps milk cooler for longer and prevents sugar from dampness
Lid protects the contents from dust or insects
Easy to use and easy to clean
Dishwasher safe
Matching items available
Use & Care
Wash in warm soapy water before first wash and dry thoroughly. All items are dishwasher safe.
Item Number

K1305-57

Brand

Bodum

Color

Matt Chrome

Width (cm)

0.0

Height (cm)

0.0

Depth (cm)

0.0

EAN

727015411576

Design Line

BODUM COLUMBIA

Bestsellers

No

Material

Stainless steel