Bodum
BISTRO
Tea pot, 1.0 l, 34 oz, incl. 2 pcs Pavina Outdoor 0,25L, 8 oz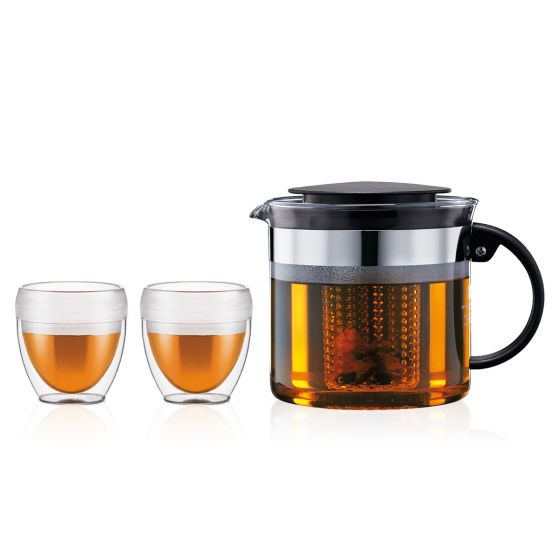 Bodum
BISTRO
Tea pot, 1.0 l, 34 oz, incl. 2 pcs Pavina Outdoor 0,25L, 8 oz
Shipping Cost (Standard) £2.90

Free Delivery over £35.00

14 Days Return Policy
About the BISTRO Teapot Set
Make your afternoon tea extra special with the BISTRO teapot set. Pairing our elegant BISTRO NOUVEAU teapot with two PAVINA OUTDOOR glasses, you'll have everything you need to enjoy deliciously pure, aromatic tea, whether in the comfort of your lounge or relaxing on the patio.
Crafted from heat-resistant borosilicate glass, the stylish teapot has a large BPA-free plastic infuser that allows your tealeaves to swirl freely and develop their full potential. Once your tea has reached your preferred strength – which is easy to see through the clear glass – simply pop out the infuser.
Sip your freshly brewed tea from the curvaceous PAVINA OUTDOOR tumblers. Made from a durable, BPA-free plastic, they're virtually unbreakable – perfect for taking your tea outside – while their double-wall construction keeps hot and cold drinks at their optimum temperature for longer.
This charming collection makes a delightful tea gift set for the tea lover in your life.
Main Features & Benefits
Tea gift set combining our stylish BISTRO NOUVEAU teapot with two PAVINA OUTDOOR glasses
Teapot crafted from heat-resistant borosilicate glass that won't alter or impair the taste of your favourite tea
Large BPA-free plastic filter that allows the full flavour and aroma of your tea to develop
Glass teapot means you can see when your tea has reached your preferred strength – simply lift out the filter to stop the brewing process
Suitable for brewing black, white, green and herbal teas; can be used with loose leaf tea and teabags
Two PAVINA OUTDOOR double wall tumblers, perfect for indoor and outdoor use
Keep hot and cold drinks at their ideal temperature for longer
Made from an extremely durable material that won't crack, shatter, break, and maintains its clarity through regular use
Glasses are dishwasher safe
How it Works
Place the BISTRO NOUVEAU teapot on a flat, heat-proof, non-slip surface.
Add your preferred tealeaves into the filter. We recommend 2-3 scoops of black tea or 3 scoops of herbal tea for each liter of water.
Pour in hot water, ensuring the water stays below the MAX level mark.
Place the lid on the teapot and let your tea brew – we recommend 3-5 minutes for black tea, or 5-10 minutes for herbal and fruit teas.
Once your tea is at its preferred strength, remove the lid and pull out the filter. Replace the lid to keep your tea warm, then serve and savor.
Wash teapot and glasses in warm, soapy water before first use and dry thoroughly. The glasses are dishwasher safe.
Item Number

K1875-01

Coming Soon

No

Shatter Proof

No

Color

Black

Capacity

0.0 L

Width (cm)

0.0

Height (cm)

0.0

Depth (cm)

0.0

EAN

699965400439

Material

Stainless steel, plastic, borosilicate glass