Bodum
BISTRO NOUVEAU
Coffee glass, 0.3 l, 10 oz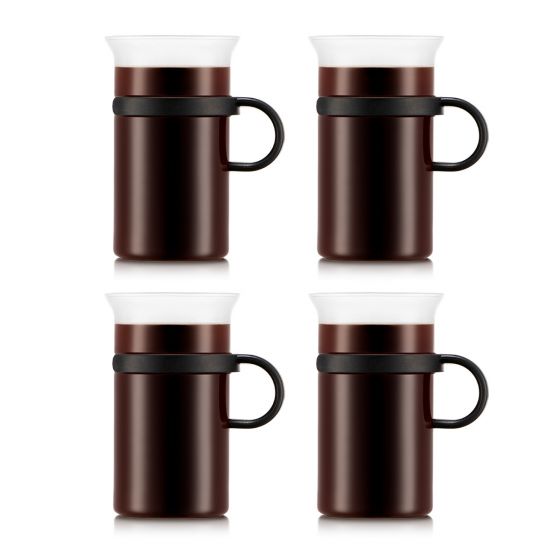 Bodum
BISTRO NOUVEAU
Coffee glass, 0.3 l, 10 oz
Shipping Cost (Standard) £2.90

Free Delivery over £35.00

14 Days Return Policy
About the BISTRO NOUVEAU Coffee Glasses
Add a touch of elegance to your daily coffee ritual courtesy of the BISTRO NOUVEAU Coffee Glasses. Designed in classic coffeehouse style, these chic glasses bring a little flair to your breakfast table.
Crafted from non-stain, heat-resistant borosilicate glass, drinking from these coffee glasses feels like a treat, your mouth watering in anticipation as you admire the color of your cup of joe, before its flavor hits your taste buds. Beautiful to behold, their recycled plastic handles make them supremely comfortable to hold, too.
Lightweight yet durable, these coffee glasses are the perfect complement to our range of BISTRO NOUVEAU coffee and tea presses. They're also easy to look after, lasting multiple dishwasher cycles without clouding.
Main Features & Benefits
Set of sleek, contemporary coffee glasses in our BISTRO NOUVEAU range
Stylish design that's practical and elegant
Crafted from non-stain, heat-resistant borosilicate glass that won't alter or impair the flavor of its contents
Easy to pick up and comfortable to hold, thanks to the sturdy, heat-resistant, recycled plastic handles
Suitable for hot and cold drinks
Dishwasher safe
Matching items available
Use & Care
Wash in warm soapy water before first use, and dry thoroughly. These coffee glasses are dishwasher safe.
Item Number

K3512-01-1

Coming Soon

No

Shatter Proof

No

Brand

Bodum

Color

Black

Capacity

0.3 L

Width (cm)

9.7

Height (cm)

12.0

Depth (cm)

7.5

EAN

699965344665

Design Line

BISTRO NOUVEAU

Bestsellers

No

Material

Plastic, borosilicate glass