NEW YORK
Cutlery Set: 4 cutlery + ring holder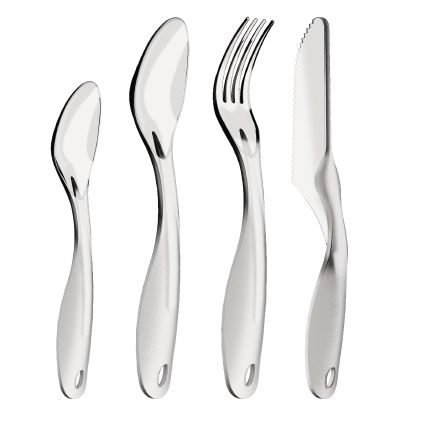 NEW YORK
Cutlery Set: 4 cutlery + ring holder
Shipping Cost (Standard) £2.90

Free Delivery over £35.00

14 Days Return Policy
About the NEW YORK Cutlery Set with Ring Holder
Casual outdoor dining calls for chic, fuss-free cutlery that can be used all summer long. Whether you're in your back garden or the great outdoors, the four-piece, reusable NEW YORK Cutlery Set is ideal. With curves in all the right places, the knife, fork, spoon and teaspoon are sturdy and comfortable to hold.
Perhaps you're looking forward to a family party on the patio, romantic picnic in the countryside or just a simple pasta salad in the park at lunchtime. This lightweight outdoor cutlery set is perfect for your on-the-go lifestyle, while its robustness means you don't need to compromise on quality over convenience. Grab something tasty to eat, kick off your shoes, pop on your sunglasses, then pick up your NEW YORK Cutlery Set and imagine you're in Central Park.
Main Features & Benefits
Set includes one knife, fork, spoon and teaspoon, plus a handy ring to hold the cutlery together securely when not in use
Suitable for outdoor and indoor use, as well as for hot and cold food
Chic curved shape – ideal for informal dining
Made of smooth, sturdy, durable plastic
Non-slip, textured handles
Reusable, waste-minimising alternative to disposable cutlery
Dishwasher safe
Use & Care
Wash before first use. Dishwasher safe.
Item Number

K6400-10B

Color

Transparent

Capacity

0.0 L

Width (cm)

7.0

Height (cm)

23.6

Depth (cm)

1.6

EAN

699965362706

Design Line

RETAIL

Material

Plastic