BODUM TEA
Mint&Berry, 75g, herbal tea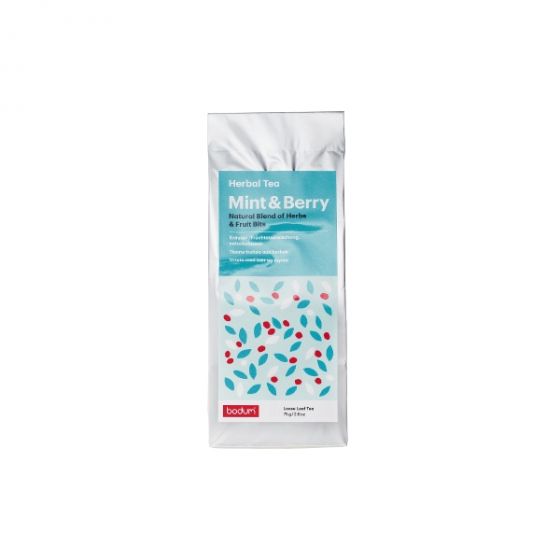 BODUM TEA
Mint&Berry, 75g, herbal tea
Shipping Cost (Standard) £2.90

Free Delivery over £35.00

14 Days Return Policy
If you're in search of an extraordinary herbal tea, why not try our premium-quality Mint & Berry blend? Your taste buds will be greeted by a remarkable combination of ingredients that's bound to lift your mood. At the heart of this luxurious loose leaf tea are elderberries, which give it the tangy taste of late summer. The fruit is well matched with citrusy lemongrass, bittersweet sunflower petals and fragrant fennel, while the addition of peppermint and spearmint ensures that the tea is as stimulating as it is summery. Allowing this delightful blend to brew for eight to ten minutes will really bring out its flavour. 
Product Features and Benefits:
• Premium-quality, loose leaf herbal tea 
• Wonderfully refreshing flavour 
• Ideal for brewing in BODUM® tea presses and teapots 
• Conveniently-sized 75g packet. 

Item Number

ZS52301-100

Coming Soon

No

Shatter Proof

No

Color

ZZZ

Capacity

0.075 L

Width (cm)

7.0

Height (cm)

17.0

Depth (cm)

4.0

EAN

699965294748

Design Line

BODUM TEA

Bestsellers

No

Material

Tea leaves