BODUM TEA
Tropical, 100g, flavoured black tea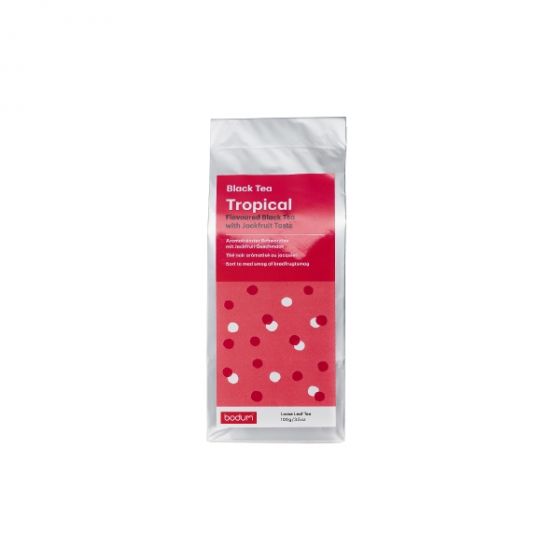 BODUM TEA
Tropical, 100g, flavoured black tea
Shipping Cost (Standard) £2.90

Free Delivery over £35.00

14 Days Return Policy
For black tea with a terrific twist, why not try our premium-quality Tropical blend? The tea leaves are enriched with the taste of juicy jackfruit, which is similar to pineapple but more invigorating. This luxurious loose leaf tea also benefits from the addition of fragrant, mood-boosting rose petals. The result is a delicious drink that's stimulating yet sweet and full-bodied yet floral. It certainly makes a refreshing change from standard black teas. Treat yourself to a cup of Tropical tea on a hectic day, close your eyes and picture yourself on an exotic beach. The stress is bound to melt away.
Product Features and Benefits:
• Premium-quality, loose leaf, flavoured black tea 
• Fabulously fruity, tangy flavour 
• Ideal for brewing in BODUM® tea presses and teapots 
• Conveniently-sized 100g packet.

Brewing instructions:
1) 1 Heaping teaspoon per cup,
2) Cover with boiling water, 
3) Brew for 3–5 minutes. 

Item Number

ZS52306-100

Coming Soon

No

Shatter Proof

No

Color

ZZZ

Capacity

0.1 L

Width (cm)

7.0

Height (cm)

17.0

Depth (cm)

4.0

EAN

699965294847

Design Line

BODUM TEA

Material

Tea leaves