BODUM TEA
Ceylon Shawlands, 85g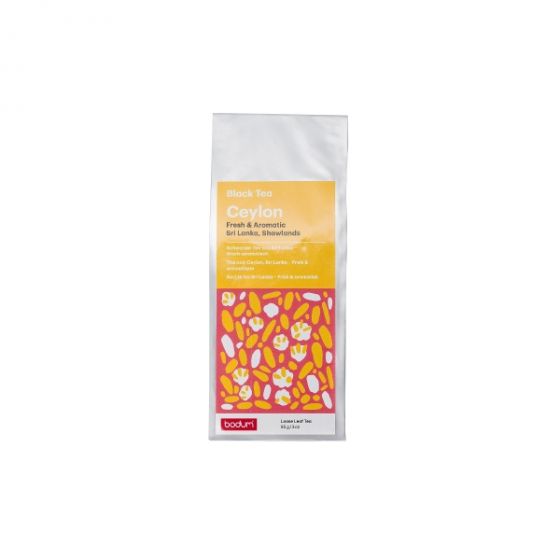 BODUM TEA
Ceylon Shawlands, 85g
Shipping Cost (Standard) £2.90

Free Delivery over £35.00

14 Days Return Policy
Loved by tea drinkers around the world, Ceylon is a classic black tea that's often described as 'brisk'. In other words, it boasts a fresh, tangy flavour, making it a superbly stimulating drink. There's a delightful hint of citrus, too. Our premium-quality Ceylon tea comes from the stunning Shawlands estate in Uva, one of Sri Lanka's most prestigious tea-growing regions. Uva's tea leaves possess a particularly smooth taste and captivating aroma that's second to none. Enjoy this loose leaf tea whenever you feel in need of a boost. Distinctive and versatile, it can be served warm or as a cooling iced drink.
Product Features and Benefits:
• Premium-quality, loose leaf Ceylon tea 
• Fabulously fresh, aromatic flavour 
• Ideal for brewing in BODUM® tea presses and teapots 
• Conveniently-sized 85g packet 

Brewing instructions:
1) 1 Heaping teaspoon per cup,
2) Cover with boiling water, 
3) Brew for 2–4 minutes. 

Item Number

ZS52310-100

Coming Soon

No

Shatter Proof

No

Color

ZZZ

Capacity

0.085 L

Width (cm)

7.0

Height (cm)

17.0

Depth (cm)

4.2

EAN

699965301224

Design Line

BODUM TEA

Bestsellers

No

Material

Tea leaves