BODUM COFFEE
Bodum's best - dark roast, 8 oz (1/2 lb), 227 g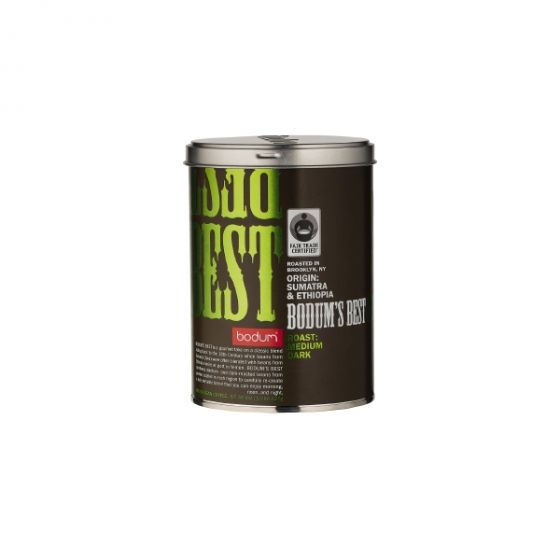 BODUM COFFEE
Bodum's best - dark roast, 8 oz (1/2 lb), 227 g
Shipping Cost (Standard) £2.90

Free Delivery over £35.00

14 Days Return Policy
BODUM's Best - Whole bean Arabica coffee. Mocha java blend of Ethiopian and Sumatra coffee.
- A dark roast blend of our Ethiopian Washed coffee from the Sidama Region and our Sumatran coffee from the Aceh region. 

Origin: Sidama, Ethiopia & Aceh, Sumatra 
Altitude: 3,937 – 5,577 feet 
Varietal: Ethiopian Heirloom, Bourbon, Catimor, Caturra & Typica 
Process: Wet Hulled & Washed 
Drying: Sun Dried 
Roast: Dark  
Notes: Blackberry, Stone Fruit & Honey 
BODUM – ROAST: Medium Dark 
BODUM'S BEST is a gourmet take on a classic blend dating back to the 18th Century when beans from Sumatra (Java) were often blended with beans from Ethiopia while at port in Yemen. BODUM'S BEST combines medium- and dark-roasted beans from premier estates in each region to carefully re-create a truly versatile blend that you can enjoy morning, noon, and night. 
Fair trade certified.
Roasted by Brooklyn Roasting Company. 


Item Number

ZS57059

Coming Soon

No

Shatter Proof

No

Color

ZZZ

Capacity

0.240 L

Width (cm)

10.5

Height (cm)

14.3

Depth (cm)

10.5

EAN

699965237325

Design Line

BODUM COFFEE

Material

Coffee beans