BISTRO
Coltello da pane, 18 cm, ceramica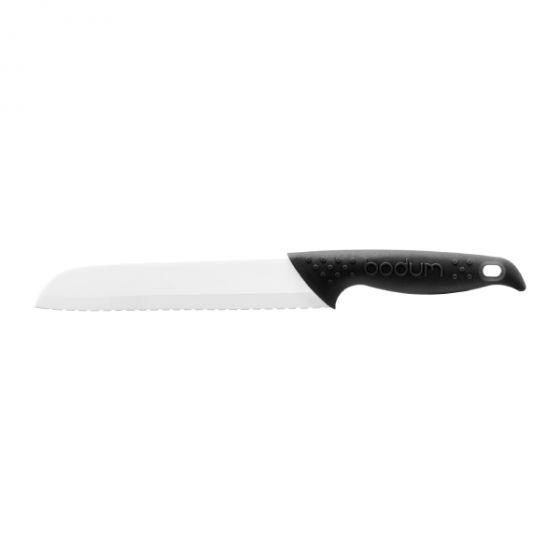 BISTRO
Coltello da pane, 18 cm, ceramica
Costo di spedizione (Standard) 5,90 €

Consegna gratuita per ordini superiori a 25,00 €

Restituzione entro 30 giorni.
Ask any chef about their most treasured kitchen tools and they don't even blink before they answer. The answer is always the same – knives. Most chefs have their own knife set and it might be wise not to get caught touching it. Chefs don't share knives even if they're usually reasonably nice people. Knives are strictly personal. Well, all right then, you'll have to get your own. This is where our BISTRO Ceramic Blade Knives come in. They're a dream to work with – whatever you're making for dinner. Meat comes miraculously off the bone, fish gets artfully filleted and chopping fruit and vegetables becomes a joy instead of a chore. In this regard you might say good knives are key to a healthier lifestyle. BODUM's Ceramic Knife collection is of exquisite quality, acid resistant ceramic material. Light-weight yet extremely durable, and corrosion-proof. Their ergonomically shaped handles in soft, anti-slip silicone make for a safe and comfortable cutting experience.

Codice Articolo

11312-01

Colore

Nero

Capacità

0.0 L

Larghezza (cm)

27.4

Altezza (cm)

2.1

Profondità (cm)

4.3

EAN

699965076153

Design Line

BISTRO

Material

Plastica, gomma, ceramica, metallo