COOL
Ice bucket with tongs, 1.5 l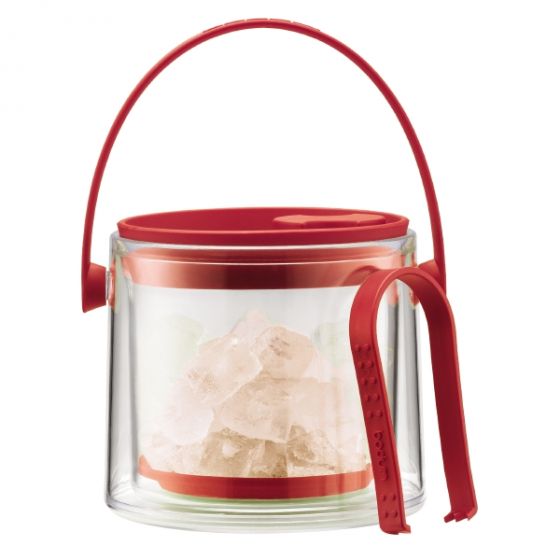 COOL
Ice bucket with tongs, 1.5 l
Costo di spedizione (Standard) 5,90 €

Consegna gratuita per ordini superiori a 25,00 €

Restituzione entro 14 giorni.
About the COOL Ice Bucket with Tongs
Whether mixing a humble gin and tonic or crafting a creative cocktail, add a splash of style with the COOL Ice Bucket with Tongs. This stylish ice bucket is an essential for any home bar – and will ensure that happy hour at yours lives up to its name!
Crafted from double wall, BPA-free plastic with a silicone lid, ice stored in the COOL stays colder for longer. A silicone mat prevents the ice from damaging the base of the bucket, while the provided tongs make it easy to serve.
Perhaps the best thing about this ice bucket is its versatility. Remove the silicone mat and you have the perfect serveware for soup or warm dips, with the bucket's thermal properties also keeping hot contents warmer for longer. It makes an ideal gift for anybody who loves to entertain.
Main Features & Benefits
Stylish ice bucket with matching tongs, ideal for a home bar or party
Crafted from double-wall, BPA-free plastic that keeps ice cooler for longer while preventing messy condensation
Wavy silicone mat sits in the base of the ice bucket, preventing the ice from damaging the plastic while raising it above any melted water
Silicone lid keeps the contents cool
Matching tongs enable easy serving of the ice
Upon removing the silicone mat, the ice bucket can also be used to serve hot liquids, such as soups and dips
Easy to use and easy to clean
Hand wash preferred
Freezer safe
Use & Care
Wash before use. Hand wash preferred, this product is not dishwasher safe. Freezer safe.
Codice Articolo

11584-137B-Y16

Colore

Orange 1788c

Capacità

1.5 L

Larghezza (cm)

16.0

Altezza (cm)

14.3

Profondità (cm)

17.7

EAN

699965345679

Material

Plastica, gomma