CHAMBORD SET
Caffettiera, 1.0 l, acciaio inox e Travel Mug, doppia parete, 0.35 l, acciaio inox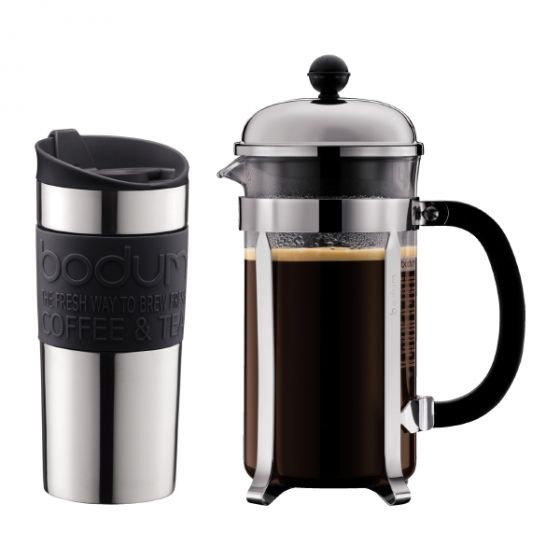 CHAMBORD SET
Caffettiera, 1.0 l, acciaio inox e Travel Mug, doppia parete, 0.35 l, acciaio inox
Costo di spedizione (Standard) 5,90 €

Consegna gratuita per ordini superiori a 25,00 €

Restituzione entro 30 giorni.
The CHAMBORD coffee maker with the French press system typical of BODUM is offered as a set with the TRAVEL MUG. You can now prepare your special coffee at home in the CHAMBORD coffee maker and enjoy it while travelling with the TRAVEL MUG.

The CHAMBORD coffee maker:
• The pot is made of flavor-neutral borosilicate glass.
• The chrome-plated stainless steel frame gives the glass jug extra protection.
• Stainless steel filter – no need to buy paper filters anymore.
• Made in Europe

The TRAVEL MUG
• The inside of the cup is made of stainless steel to keep the coffee warm for longer
• Heat-resistant silicone strip for a firm grip and a safe handling
• Non-skid rubber base and comfortable, ergonomic grip with colorful silicone band
• Can be also used for other drinks, hot or cold

Caution: Please do always keep the mug upright. Due to safety reason, the mug is not leakproof because of possible over pressure.
Codice Articolo

K11068-01

Colore

Nero

Capacità

0.0 L

Larghezza (cm)

0.0

Altezza (cm)

0.0

Profondità (cm)

0.0

EAN

699965199142

Design Line

CHAMBORD®

Material

Acciaio inox, plastica, vetro borosilicato