BRAZIL SET
Caffettiera, 8 tazze, 1.0 l e 2 bicchieri con manico di siliconi, 0,35 l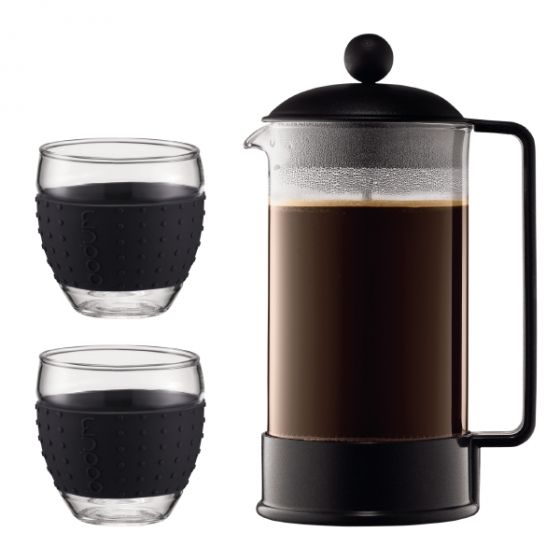 BRAZIL SET
Caffettiera, 8 tazze, 1.0 l e 2 bicchieri con manico di siliconi, 0,35 l
Costo di spedizione (Standard) 5,90 €

Consegna gratuita per ordini superiori a 25,00 €

Restituzione entro 30 giorni.
The ideal gift set for any coffee lover: BODUM's original French Press design, the BRAZIL French Press coffee maker, paired with a set of 12oz PAVINA Glasses. The BRAZIL features a borosilicate glass beaker and BODUM's signature safety and aroma seal to keep coffee fresh and warm longer, while the base, lid and handle are made of heat-resistant polypropylene for added durability. The single-walled PAVINA glasses are wrapped in a dishwasher safe silicone band for a sturdy, stylish grip.

Codice Articolo

K1548-01-2

Colore

Nero

Capacità

0.0 L

Larghezza (cm)

0.0

Altezza (cm)

0.0

Profondità (cm)

0.0

EAN

699965259167

Design Line

BRAZIL

Material

Acciaio inox, plastica, vetro borosilicato, gomma