BODUM COFFEE
Chambord - donker gebrand, 8 oz (1/2 lb), 227 g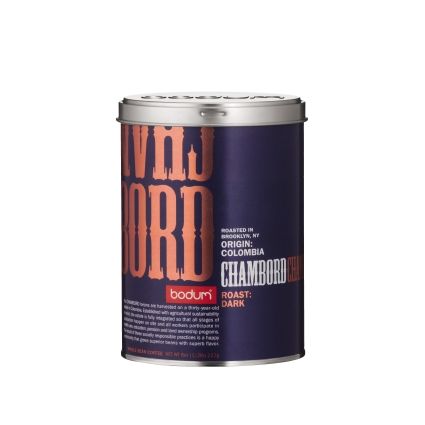 BODUM COFFEE
Chambord - donker gebrand, 8 oz (1/2 lb), 227 g
Shipping Cost (Standard) € 5,50

Gratis levering over € 25,00

30 dagen retourbeleid
CHAMBORD - Whole bean Arabica coffee. Fair Trade Single origin Colombian coffee.
- A dark roast single origin coffee from the Antioquia region of Colombia. 

Origin: Antioquia, Colombia 
Altitude: 4,593 – 6,561 feet 
Varieties: Caturra & Colombia 
Process: Washed 
Drying: Silo Dried 
Roast: Dark 
Notes: Malt, Sweet Berry & Guava 
BODUM – ROAST: Dark 
Our CHAMBORD beans are harvested on a thirty-year-old estate in Colombia. Established with agricultural sustainability in mind, the estate is fully integrated so that all stages of production happen on site and all workers participate in health care, education, pension and land ownership programs. The result of these socially responsible practices is a happy community that grows superior beans with superb ­flavor. 
Fair trade certified.
Roasted by Brooklyn Roasting Company. 

Item Nummer

ZS57011

Kleur

ZZZ

Inhoud

0.240 L

Breedte (cm)

40.0

Hoogte (cm)

55.0

Diepte (cm)

40.0

EAN

699965237240

Design Line

BODUM COFFEE

Material

Koffiebonen