BODUM COLUMBIA
Dobbeltvægget kaffebrygger,12 kop, 1.5 l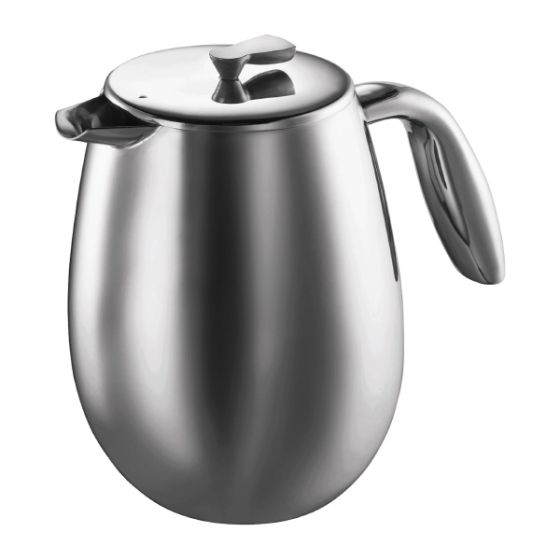 BODUM COLUMBIA
Dobbeltvægget kaffebrygger,12 kop, 1.5 l
Free Delivery over 199,00 NOK

14 Days Return Policy
Om COLUMBIA termopresse
Dykk ned i skåldende het kaffe struttende av smak, takket være COLUMBIA termopresse. Som del av Bodums ikoniske presskannesystem, kombinerer denne innovative kaffebryggeren enkelhet i brygging og renhet i smak, mens dens unike dobbeltveggede konstruksjon holder din kaffe varm lenger.
I løpet av fire korte minutter gjør kaffebryggeren COLUMBIA vann og grovkvernede kaffebønner om til fyldig og smaksrik kaffe. Men dens varmeisolerende, dobbeltveggede design sikrer at brygget ditt holder seg varmt i opptil to timer. Så du kan nyte en lang, avslappet frokost uten å måtte brygge to ganger.
Takket være Bodums stilfulle design ser COLUMBIA like bra ut som kaffen smaker. Dens kropp av rustfritt stål er støpt til perfeksjon med sofistikerte kurver, mens den holdbare overflaten i krom skjuler riper og passer inn i ethvert tradisjonelt eller moderne kjøkken.
Egenskaper og fordeler
Varmeisolert presskanne med en holdbar, dobbeltvegget konstruksjon av rustfritt stål for bedre hold på varmen.
Stempel av silikon og netting som forhindrer riper, filtrerer bedre og reduserer bunnfall.
Håndtaket gir et godt grep, blir ikke varmt og er en fornøyelse å holde i ved skjenking.
Sikkerhetslokk som forhindrer innholdet fra å lekke ut.
Miljøvennlig metode for brygging – her trengs ingen papirfiltre eller plastkapsler.
Lett å bruke og lett å rengjøre.
Tåler oppvaskmaskin.
Hvordan den virker
Plasser COLUMBIA på et flatt underlag, hold håndtaket godt fast og dra stempelet opp og ut av kannen.
Tilsett én toppet teskje eller én Bodum måleskje med grovmalt kaffe per kopp / 0,12 l vann.
Hell varmt vann i kannen (omtrent 92-96 ºC), men la det være minst 2,5 cm klarning til toppen, og rør med en plast- eller treskje.
Plasser stempelet på toppen av kannen og vri lokket så tuten er lukket for å holde på varmen.
La stå i fire minutter for å brygge, og før så stempelet sakte nedover. Vri på lokket for å åpne helletuten og skjenk deg en deilig kopp med kaffe.
Bruk og vedlikehold
Vask i varmt såpevann før første bruk og tørk godt. Alle delene tåler oppvaskmaskin.
Alle våre kaffe- og tebryggere er målt i europeiske koppstørrelser: 1 kopp = omtrent 0,12 l
Artikkelnummer

1312-57

Color

Matt Chrome

Kapasitet

1.5 L

Bredde (cm)

22.5

Høyde (cm)

21.0

Dybde (cm)

16.0

EAN

727015332581

Design Line

BODUM COLUMBIA

Material

Polyoxymethylene thermoplastic (POM), Polypropylene plastic (PP), Silicone, Stainless steel, Zinc